Cyclones, hurricanes and typhoons can all have devastating effects when they make landfall, but what's the difference, and when are they most common?​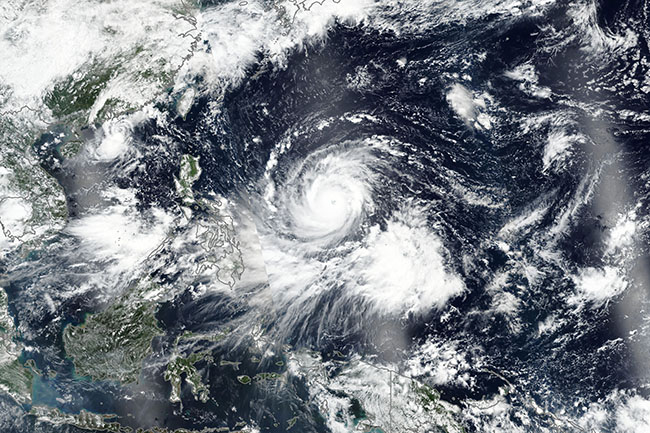 Typhoon Mangkhut heads towards the Philippines on 12 September 2018. Nasa Earth Observatory.
Cyclone Idai has swept through Mozambique, Malawi and Zimbabwe causing chaos, killing hundreds and affecting many thousands more, leading to the Disasters Emergency Committee's latest appeal.
Cyclones, along with hurricanes and typhoons, can all have devastating effects when they make landfall, and DEC member agencies have responded to them many times before – such as after Typhoon Haiyan, which struck the Philippines in 2013.
But what's the difference between these types of tropical storm? The answer might be simpler than you think: location. Otherwise, they are essentially the same (but just like water going down a plug hole, they turn counter-clockwise in the northern hemisphere and clockwise in the southern.)
Hurricanes form in the North Atlantic, north-eastern Pacific, the Caribbean Sea and occasionally the Gulf of Mexico, usually making landfall in the US, Caribbean, Mexico or Central America.
The DEC hasn't launched an appeal for a hurricane since the 1998 Central America Hurricane Appeal. This is largely because most countries affected by hurricanes now have the capacity and preparedness to deal with their effects without the need for large-scale international assistance, or they are able to get support from other countries nearby. You can find out more about how we decide to launch an appeal here.
Typhoons form in the north-western Pacific and make landfall in East Asian countries such as the Philippines, China, Japan, Vietnam and Indonesia.
The DEC launched the Philippines Typhoon Appeal in 2013 after Typhoon Haiyan tore a path of destruction more than 100 miles wide through the centre of the country, bringing torrential rain, gusts of more than 180mph and a storm surge of more than five metres that devastated coastal areas. In 2009, the DEC launched the Indonesia, Philippines and Vietnam Appeal following Typhoon Ketsana, a major earthquake and Typhoon Padang all striking the region within just 10 days.
Cyclones are formed in the South Pacific and Indian Ocean and generally make landfall in Asian countries such as India, Bangladesh and also Madagascar and Australia. They are not as common in southern Africa but as Cyclone Idai has shown, they remain a risk. Idai was the strongest tropical cyclone to hit the country since Tropical Cyclone Jokwe in 2008.
Tropical Storm Eline struck the same region in 2000 and killed around 800 people. The DEC has launched many appeals following cyclones, including the Myanmar Cyclone Appeal in 2007 after Cyclone Nargis wrought destruction along the country's eastern coast, including the largest city Yangon. The 1999 India Cyclone Appeal was launched after a violent cyclone was followed by a storm surge tidal wave.
The Atlantic hurricane season runs from June to November, peaking between late August and October. Typhoons and cyclones happen all year round, but the peak season for the Philippines is May to November, while Bangladesh has one from April to May and another from October to November.
You can donate to the DEC's Cyclone Idai Appeal here.​