The Nepal Earthquake:
How your money helped
The Nepal Earthquake:
How your money helped
On 25 April 2015, Nepal suffered the worst earthquake to hit it in 80 years, causing widespread destruction, including severe damage to remote communities. Here's how your donations helped people after the disaster.
The 7.8 magnitude tremor hit the countryside around 50 miles outside the capital Kathmandu. A fortnight later, a second earthquake struck. In total 8,891 people were killed, more than 22,300 injured and over 893,000 homes were destroyed or damaged, along with schools, clinics, temples and ancient buildings. Across Nepal, 8.1 million people were affected.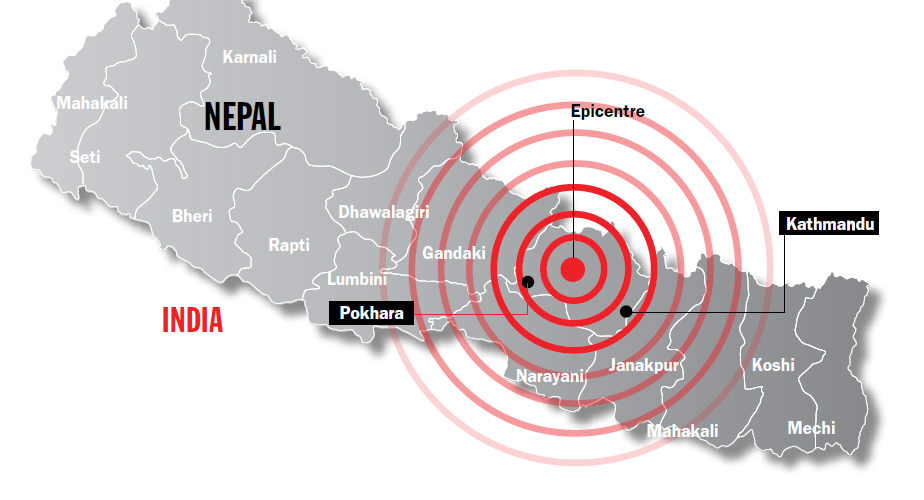 In the face of such great needs, it can seem difficult to know how best to help. This is when the Disasters Emergency Committee (DEC) kicks into action, bringing together 13 of the UK's leading humanitarian aid charities and calling on a strong network of organisations to help spread the word and raise an amount of money that will make a difference.
TV broadcast appeals presented by Joanna Lumley appeared on the BBC, ITV, Channel 4, 5 and Sky as well as radio appeals by Kenneth Branagh and Kate Adie. Daniel Craig and Bear Grylls also recorded messages to be used online.

Donations to this appeal are now closed. To donate to the DEC's Emergency Fund, click here.
On TV, Britain's Got Talent, the Champions League and Good Morning Britain helped spread the word, while corporate partners such as BT, British Airways and the Co-Op also reached out to customers and cash machines prompted users to donate, thanks to our partnership with the British Bankers Association (now UK Finance). All of this is done in the spirit of helping when the need is greatest, free of charge. Newspapers and other advertising spaces also offer considerable discounts.
The result was a huge £87 million raised to help the people of Nepal, with DEC member charities raising £32 million and £55 million coming directly to the DEC, including £5 million in Aid Match from the UK Government. Of the £55 million raised by the DEC, the costs of running the appeal was just £2.8 million, or just over 5%.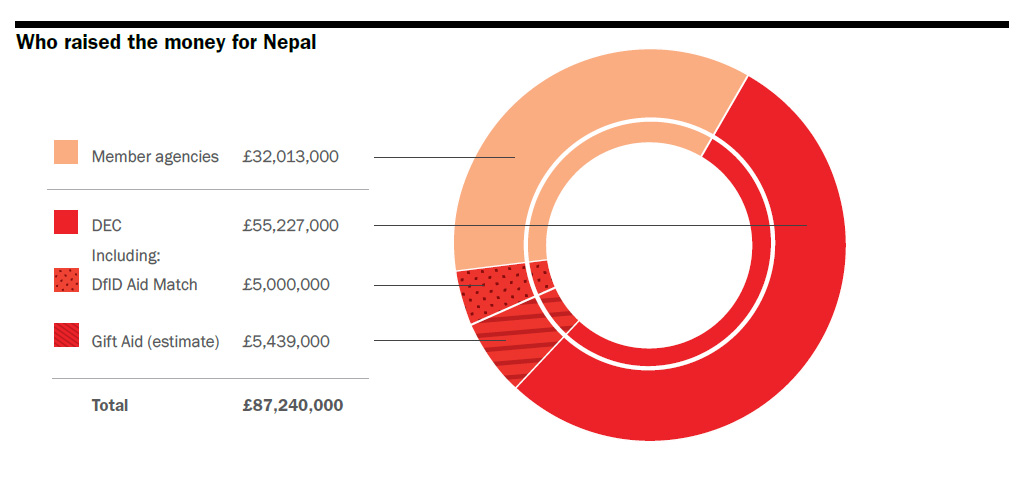 The response to a disaster as devastating as the Nepal Earthquake comes fist in an emergency relief phase and later, once the immediate crisis has been brought under control, in a recovery and reconstruction phase. In the emergency relief phase, DEC charities provided immediate, life-saving assistance such as food, water, medical care and sanitation to prevent the spread of disease.
Aid goods distributed included food, blankets, medical supplies, tents and household items, as well as medical treatment, and wherever possible, goods were purchased locally or regionally, to reduce costs and speed delivery. But money was also spent on logistics, (moving, storing and delivering aid to survivors), international experts such as logisticians, doctors and emergency managers, as well as many local staff and people working for partner organisations. Some appeal funds also went towards UK support, including monitoring and evaluation to ensure the response is working efficiently, and auditing and accountability to check that funds are being spent properly.
Click here to visit the DEC's interactive minisite on the story of the Nepal earthquake, Aftershock.
The humanitarian response was large-scale, complex and spread over hundreds of square miles of challenging Himalayan terrain. Some of the worst affected areas were in remote rural areas high in the mountains and sometimes not even accessible by road. Providing aid in this environment is not just about the physical things people need but a process to make sure that the right types of help get to the right people in a timely and efficient manner.
In the first six months of the response, more than half of aid spending went on shelter, nearly 20% went on cash projects, including cash-for-work schemes, and 10% on water, sanitation and hygiene.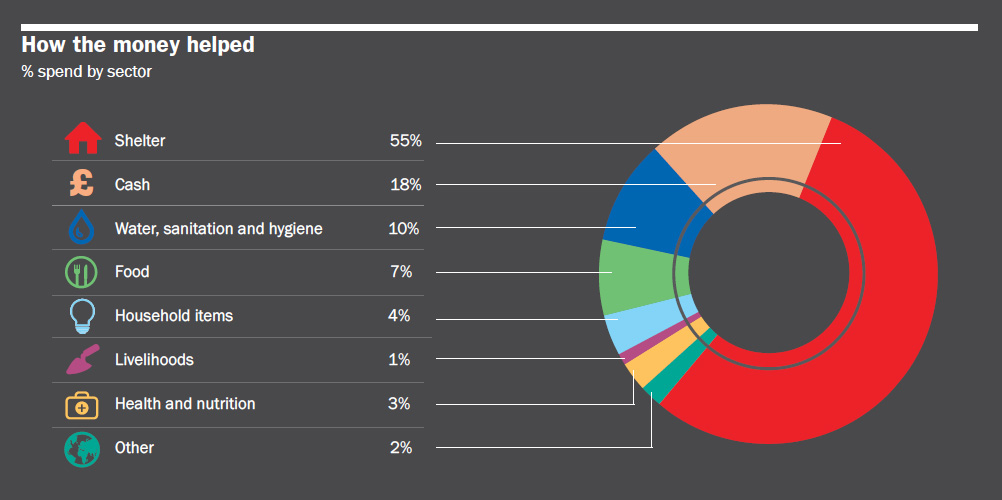 In the first six months, DEC funds meant 233,000 people had access to safe drinking water, 121,700 people received medical treatment, 135,000 people received food support and 67,000 shelter kits and 38,000 corrugated galvanised iron bundles were distributed. Overall, the response reached 1.6 million people during this time.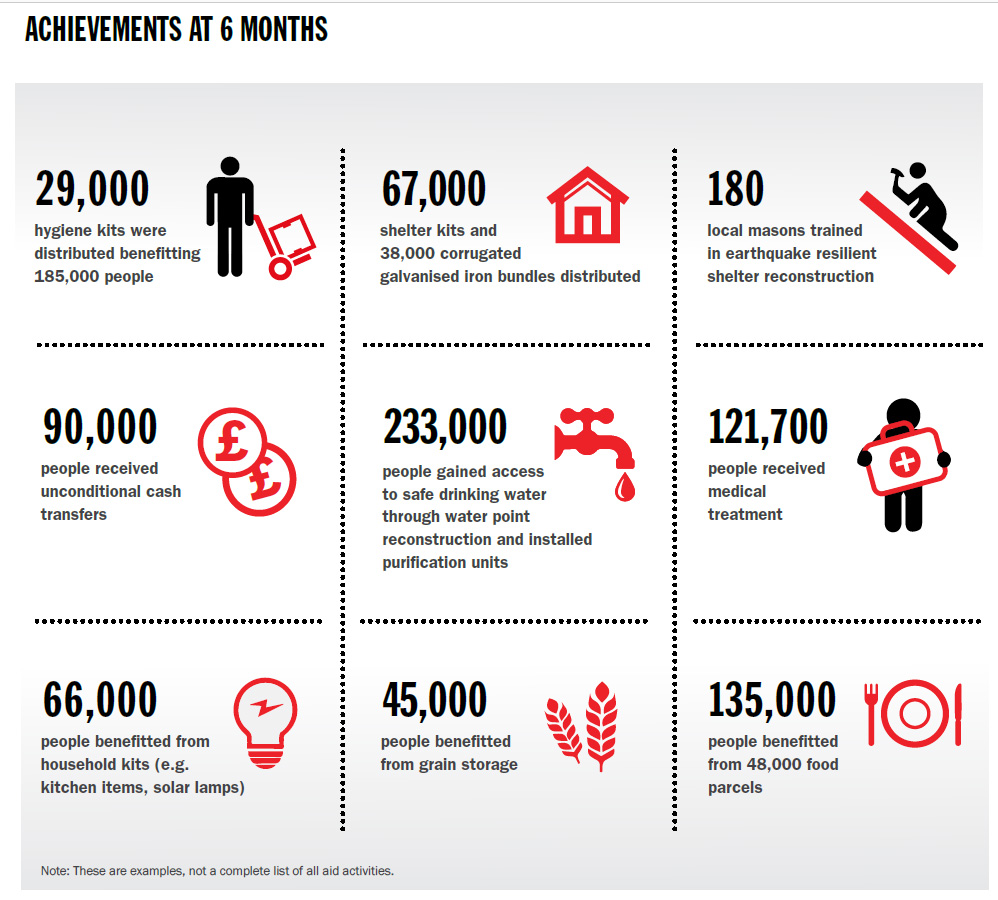 The response was not without difficulties, and as in every response the DEC commissioned an independent Response Review three months in, which identified key challenges and areas for improvement and is available here.
Some of these factors, such as the fuel crisis that began in September 2015 and delays in the Nepalese government's plans for shelter construction and directives on building reconstruction have hampered the recovery and reconstruction phases of the response.
Nevertheless, there are many examples of people who have been helped by programmes to rebuild livelihoods in the later stages of the response, with DEC charities often focusing on those left most vulnerable following the earthquakes. People like Ramesh Sarki, from the marginalised Dalit caste, who received a grant to expand his tea shop business after submitting a business plan, or Gyan Laxmi Liga, who lost her house in the earthquake and couldn't rebuild it because of her absent husband, but received training to become a mason, helping her community build back safer – the mantra of earthquake reconstruction.
"I just used to carry the bricks," said Gyan. "I learnt lots of different techniques in the training, such as rendering and lapping. They are earthquake safe techniques." Between November 2015 and April 2017, DEC funds allowed member charities to help more than 210,000 people with similar assistance.
During the same period, almost 350,000 people received shelter assistance, more than 215,000 were reached with clean water, sanitation and hygiene projects, and more than 170,000 people were reached with health and nutrition assistance.
A total of 45 schools have also been rebuilt as "safe schools" with DEC funds, including the Dhunge School, below, allowing students to move from their temporary learning centre (TLC) and continue their education.
Dhunge School students shared, the new school building will provide them safe space during rainy & high wind seasons, & improved toilet facility. The students who were in TLC, are very excited to continue their study in the new building, built with support from the @decappeal pic.twitter.com/EVSMW9yz2F

— ActionAid Nepal (@actionaidnep) March 21, 2018
DEC charities have also used innovative techniques in the reconstruction effort, such as supplying machines to make "Earthbricks" – bricks made from compressed earth, cement and water that can be produced locally, cost a fraction of traditional bricks, are more earthquake-resistant and better for the environment.
Nepal was one of the poorest countries in the region before the earthquake and remains so today, with geography and infrastructure that poses significant challenges to aid efforts. With limited resources, there have also been necessary trade-offs between reaching as many people as possible and reaching those who are most vulnerable, often those living in remote and difficult to access areas. For example, it costs a lot more to help someone in a landslide-prone village high in the mountains and only accessible only by helicopter or five-day hike, than it does to help someone in Kathmandu. The country also suffers from annual disasters on a smaller scale, such as landslides and flooding, caused by its six-month monsoon season during which time most reconstruction projects are brought to a halt.
So while much has been done, and DEC funds have helped countless people in the relief, recovery and reconstruction phases, it will take Nepal many years to recover from a disaster of the scale and complexity of the Nepal earthquake. And while the DEC response is drawing to a close, DEC member charities will continue working in the country for years to come.
The DEC's Nepal Earthquake Appeal is now closed and all funds have been spent. More information is available in the final report.