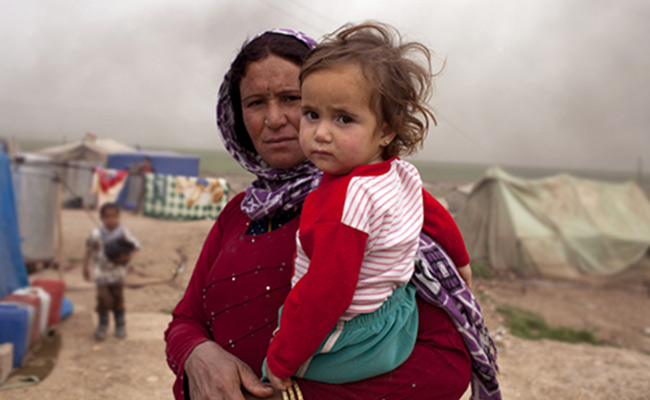 Syrian refugees in northern Iraq earlier this year where Christian Aid 
is working through partners to provide help. Photo: Christian Aid / Sarah Malian
Saman Majed, from Christian Aid's Iraqi partner REACH, reports back from meeting Syrian refugee families along the border and those seeking refuge in Iraq. REACH has been providing support to refugees since the start of the Syria crisis.
As the Syrian conflict grows ever deadlier for the country's civilians, some two million people, a tenth of the population, have now fled as refugees. Half of them are children. Since mid-August, a human tide of some 46,250 refugees have poured into northern Iraq.
The border between Iraq and Western Syria has been closed since mid-May. In recent weeks, however, the numbers of people building up on the Syrian side had grown so large that eventually the Kurdish Regional Government in Iraq set up a pontoon bridge across the River Tigris. Around 42,000 refugees crossed in the first week alone.
Many families have arrived on foot, after travelling through mountainous desert, exhausted and hungry. Some had waited for weeks to cross, in temperatures of up to 40 degress; they hadn't washed for days, their skin was burnt from the sun and their clothes were worn out.
They have no money left – there is no employment anymore in the areas where they lived – and water and electricity has been cut off in many places. They are fleeing not just the fighting but a break down in security generally with refugees telling us of instances of rape and kidnapping too.
Just reaching the border was a nightmare for some. I met a man who had travelled for 10 days from Damascus, a journey which should have taken just a day. But it was a young girl, barely 16, accompanying her young brother, who summed up the loss and misery for me. They were just two children, lost in a sea of people.
She told me her family had sent them to the border to escape the fighting in her home town, saying they would join them later. But no-one had come. She had waited a couple of days, not knowing what to do, before deciding that it would be safest if they made the crossing alone. But once in Iraq, she had no idea where to go. I accompanied her to the nearest UN High Commissioner for Refugees (UNHCR) post where she could register. She was obviously trying to remain strong for the sake of her brother – but she was a kid herself. It was heart breaking.
Buses laid on by various relief agencies are taking the refugees from the border to the towns of Erbil and Sulaimaniya. Domiz, the main UN camp, initially built for up to 15,000 refugees but now home to more than 55,000, is full, with five transit camps being set up to take the overflow. Behind schedule, the largest of them already holds 15,000 refugees.
Half of the new influx, however, is outside the camps, staying with host communities or sleeping rough under tarpaulins and other makeshift shelters – with no access to water or sanitation - or camping out in schools, mosques, libraries, garages and warehouses; anywhere they can find.
It is a miserable situation. One of the main challenges in delivering aid is that they are so widely dispersed. Local army units are helping out by providing meals, and there is a big campaign amongst the host communities to donate clothes. But few agencies are working with the arrivals who are not in camps.
REACH is one that does; concentrating its efforts on the immediate needs of very vulnerable people. With money from Christian Aid through the DEC Syria Crisis Appeal we have reached more than 7,000 refugees with food, jerry cans for water, sanitary products and other essential items.
Rains are due in October which is going to make matters worse, particularly for those outside the camps. Refugees are already suffering from malnutrition and diarrhoea, and health issues will escalate without proper medical supplies, clean water and sanitation units. In the largest temporary camp I saw just two water storage talks, with many women queuing to gather water.
From recent reports about the use of chemical weapons I fear the situation will get even worse in Syria and more people will be forced to flee.
Saman Majed
REACH, Christian Aid partner organisation