Putting women's needs at the heart of emergency response in Pakistan
This International Women's Day, DEC Chair of Trustees Sue Inglish reflects on the stories of women she met in Pakistan's flooded villages.
In December I visited Pakistan to see work carried out by our member charities in response to the unprecedented floods that swept the country in the summer of 2022. These floods destroyed millions of homes as well as the crops and livelihoods that many families rely on. Schools and health facilities were also washed away in their thousands.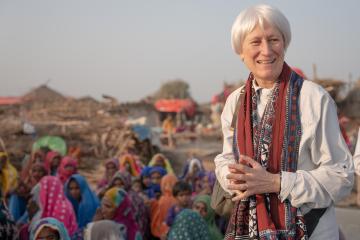 We travelled through the countryside that was badly damaged by the floods to visit villages still surrounded by standing flood water. I spent a lot of time listening to women and girls. When no men were present they felt able to tell me openly of their particular needs around health, nutrition, livelihoods, hygiene and protection.
Mobile clinics provide access to women's healthcare
Among the 33 million affected by the floods, 650,000 of them were women in need of maternity services. The floods have also spread waterborne diseases while mosquitoes bring malaria and dengue. Women told me how living in unhygienic conditions in basic shelters are giving them and their children infections, coughs and fevers.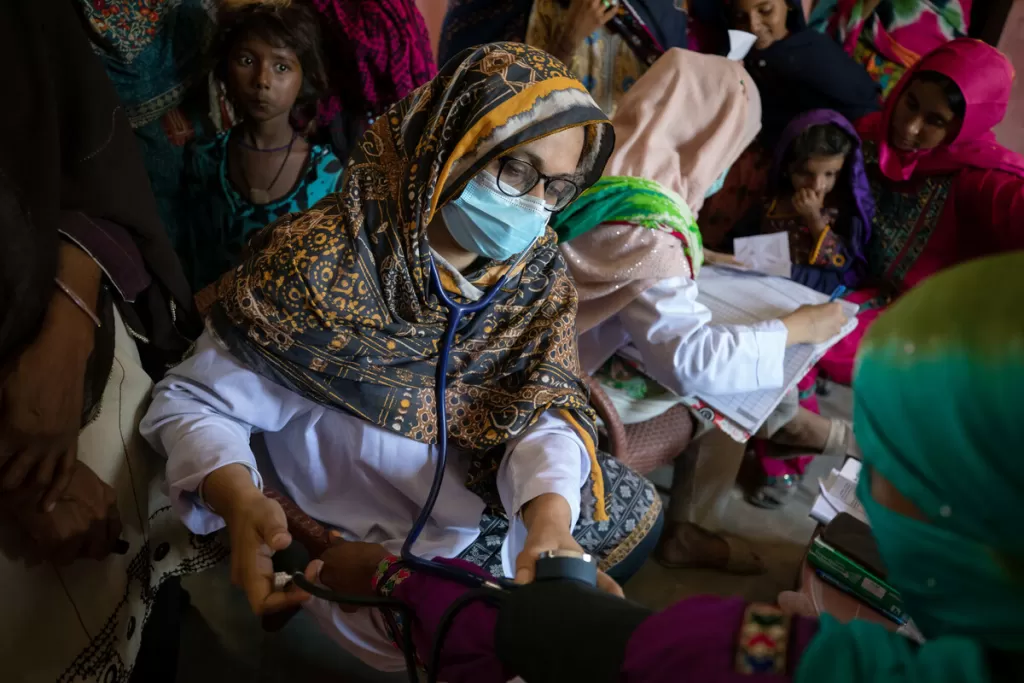 In one community I visited they told me that the nearest health centre was seven kilometres away and the road to their village had been destroyed by the floods so it was hard for them to travel there. If they do manage to get to the clinic they have to pay for any medicines they need and since the floods destroyed their livelihoods, they have no money. One mother, Lalla, had borrowed 1,000 rupees to cure her baby's respiratory tract infection, pushing the family into debt. It was only too easy to imagine this community's problems mirrored by thousands of others.
Inevitably in such a crowded, emergency context there wasn't a lot of privacy but there was compassion and respect, and women were getting the help they needed.
One way that DEC charities have worked to increase women's access to healthcare is through mobile clinics that drive to remote communities and provide free care. I was lucky enough to visit one of these supported by Concern Worldwide. It was a highly organised and very professional operation, crowded with people from the surrounding area where many have been affected by the floods. The doctors told me that they set up in a village from 9am to 5pm, and see 500 to 700 people in one day. These are badly needed services in high demand.
On one side of the large marquee there was a women's clinic curtained off from the main area and run by two women doctors and two midwives specialising in family planning, antenatal and postnatal care. On the other side, two more doctors were running a men's clinic and there was a children's clinic providing vaccinations and checking for malnutrition. There was even a lab set up for on-the-spot blood tests and a mobile pharmacy dispensing free medicine. While people were waiting, staff shared information on health and hygiene.
Cash support allows women to meet their family's needs
One mother and baby at the clinic caught my attention. Both were clearly malnourished. The little boy was 15 months old but looked very small for his age. His mother Naju told me, "For a long time now all we have eaten is chapati and green chillies with water twice a day. He's getting weaker by the day."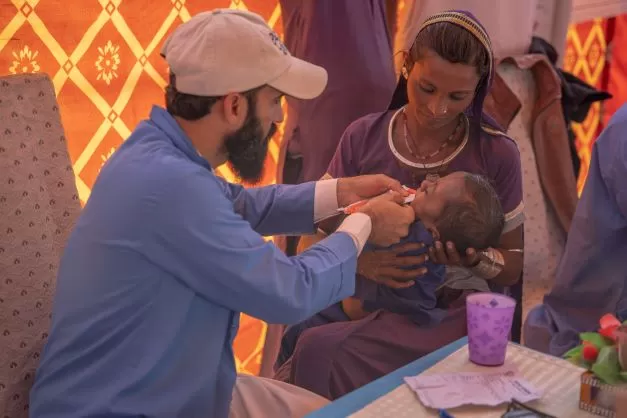 The doctor checked the baby and prescribed nutritional peanut paste to provide a high calorie food to treat his malnutrition. Naju was grateful for the help she received but she has seven other children at home and no food or income as the fields where her husband earned a daily wage were still under water. For mothers like Naju, healthcare is essential but so are food and cash distributions.
The doctor told me that around 44% of pregnant women in Pakistan are anaemic, partly because of multiple pregnancies and partly due to lack of food.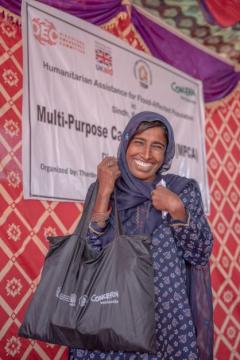 We met women who had received cash from Concern, Islamic Relief and Oxfam and had used it either to buy essentials for their families or to invest in livestock to sustain them long term. For example, a mother called Sajna had bought goats and was helping to support her family by selling the milk, while Yasmeen*, a young woman with a disability living alone with her mother, received crucial food that they would rely on to survive, alongside cash for other essentials like clothing.
Listening to women express their concerns
An obvious need for women in every context including emergencies is coping with menstruation. All three of the charities I visited during my trip - Concern Worldwide, Oxfam, and Islamic Relief - had been distributing 'dignity kits' which include sanitary products for women and girls.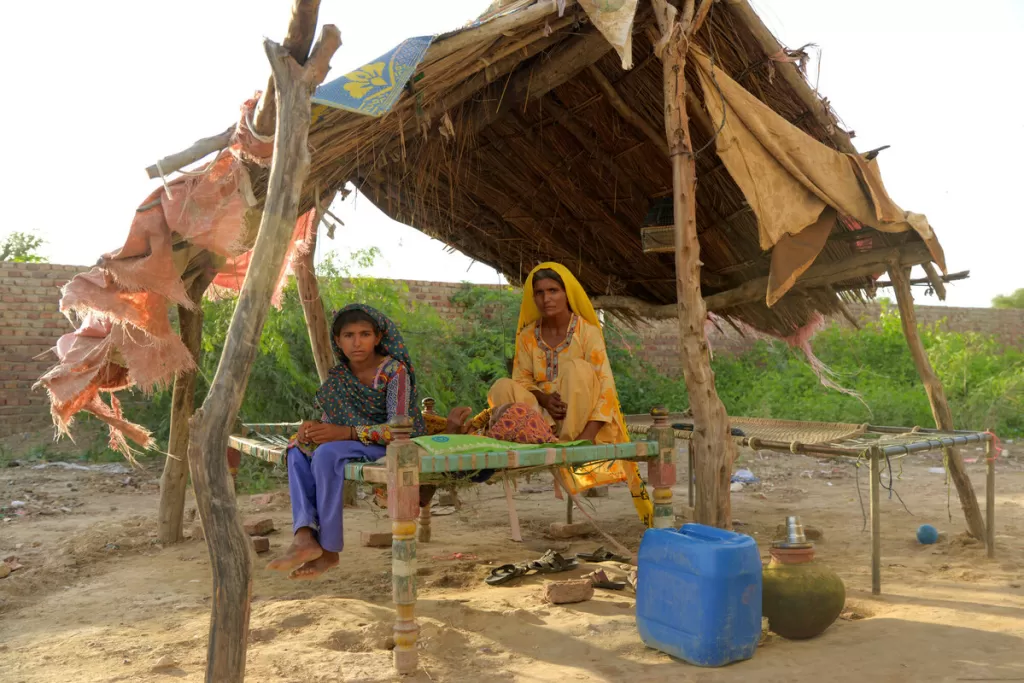 But women told me about another hygiene issue which was causing them great distress. Having lost their homes they had spent weeks living in makeshift shelters on the roadside and now in tents distributed by aid agencies. Where do you go to the toilet when there is no privacy? They said that even where emergency latrines have been installed they are being used by men and the women do not feel comfortable sharing them. So they hold on until nightfall and then go in the bushes risking snake bites and fearful of sexual abuse.
This issue came up as a priority for women in two different community groups that we visited and the DEC charities running the programmes said they would respond urgently to provide a solution.
The women and girls I met were living in the toughest of circumstances yet they showed incredible stoicism and spoke openly about their needs. It was an important remider of how critical it is for women to be involved in aid response.
The women and girls I met were living in the toughest of circumstances yet they showed incredible stoicism and, free from the presence of men, were able to speak openly and clearly about their immediate needs as well as their hopes for the future. It was an important reminder of how critical it is for women to be actively involved in aid response in emergencies, defining their needs and what will work best for them in their own communities.