In February 2022 conflict erupted in Ukraine causing widespread damage and loss of life - and triggering a massive humanitarian crisis.

Millions of lives were turned upside down and families were torn apart. Facing impossible decisions, many were left cold, hungry and homeless. But they were not alone.

Each image in the gallery below is an example of how millions of acts of generosity are delivering real impacts for people affected by the conflict, thanks to your donations.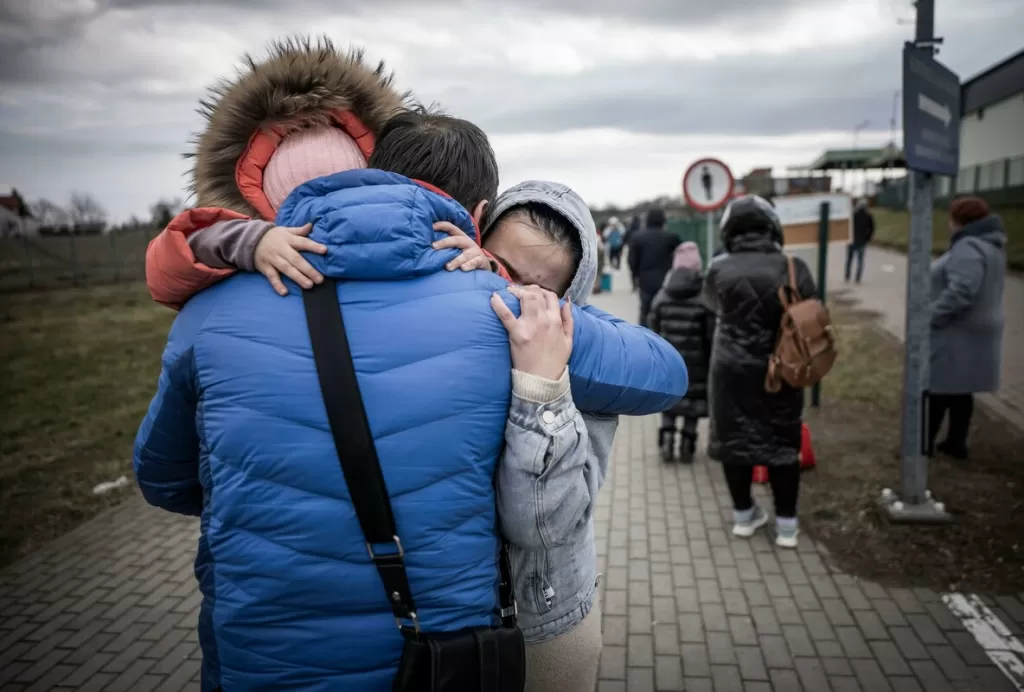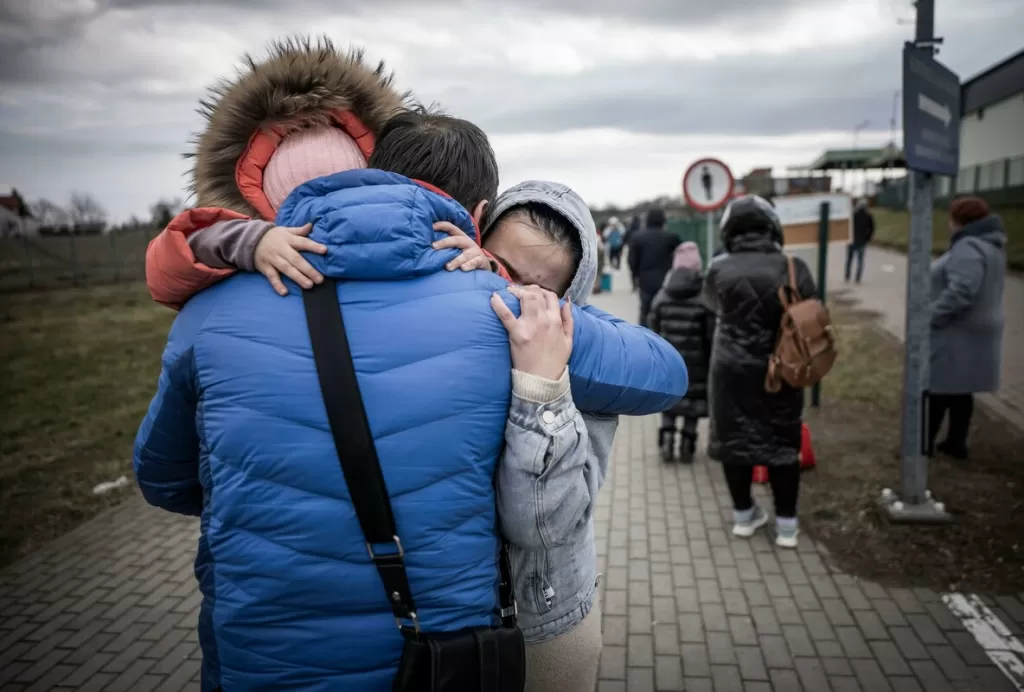 FAMILY FAREWELL
A man hugs his daughter and granddaughter after they crossed the border from Ukraine to Poland, in February 2022.
Over a million people fled Ukraine in a week when the conflict began. Families were separated, with many people unable to leave, while mothers fled with their children, uncertain about their future.
This image became the face of the DEC Ukraine Humanitarian Appeal that launched in March 2022 and set a Guinness World Record for the most money raised by an online campaign in one week. Over the past year, the appeal has raised an incredible £400 million. DEC charities have been working in Ukraine and neighbouring countries to provide cash support, food, water, healthcare, shelter, protection and other essential aid to millions of people affected by the conflict.
Photo: Michael Kappeler/dpa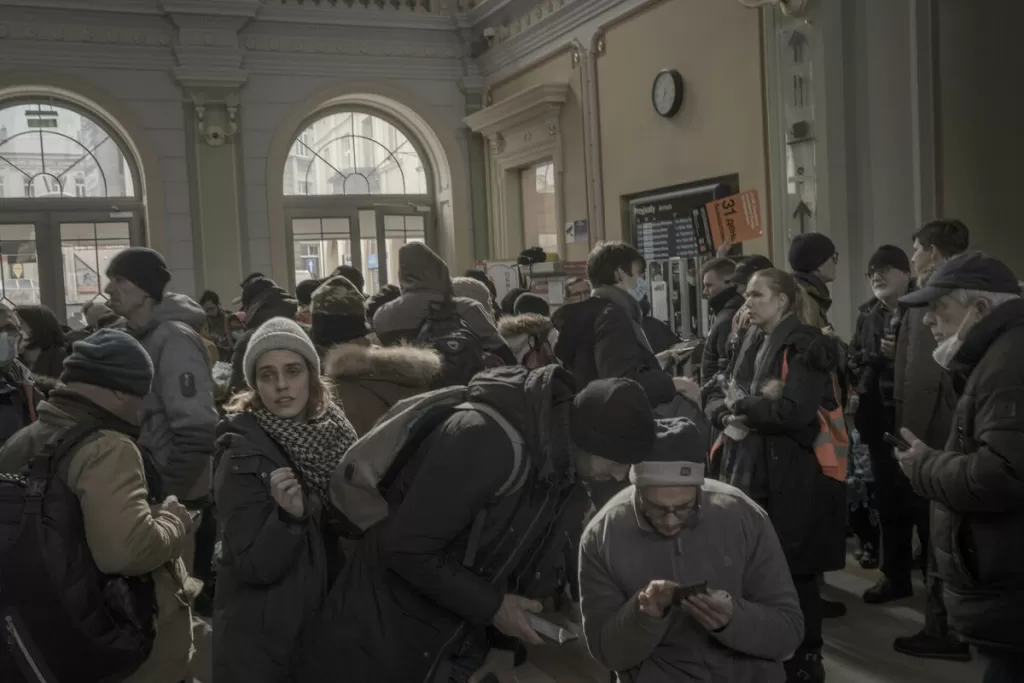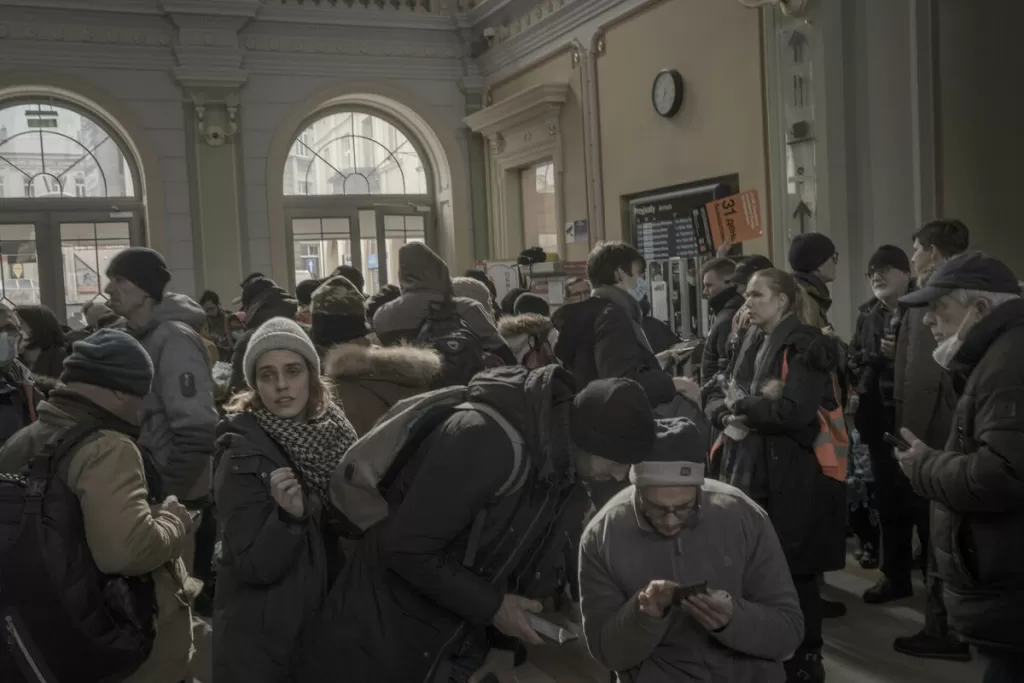 LIVES IN TRANSIT
Refugees at Przemysl railway station, Poland receive information and support in February 2022.
Refugees from Ukraine arrive at Przemysl railway station in Poland, many of them having fled their homes in difficult circumstances, unsure what to do next. DEC charities including the local partners of International Rescue Committee were at the border to welcome refugees, providing information services and essential items, such as blankets, sleeping bags, warm clothes and food.
The support continued at other transit centres too, with DEC funds providing over 127,000 refugees from Ukraine with basic services as they arrived in neighbouring countries.
Photo: International Rescue Committee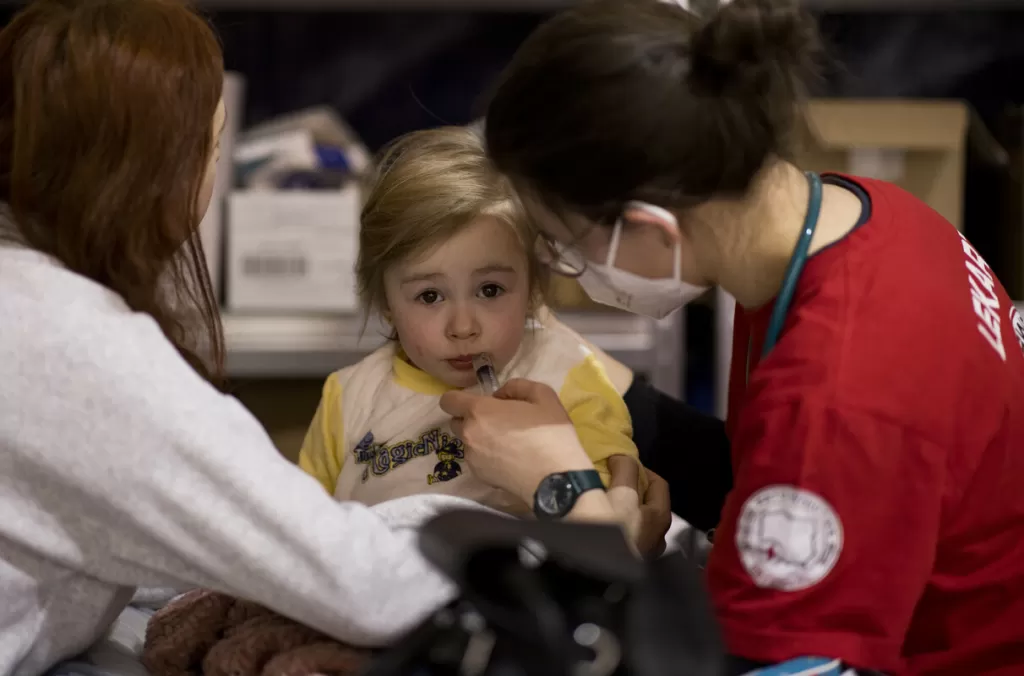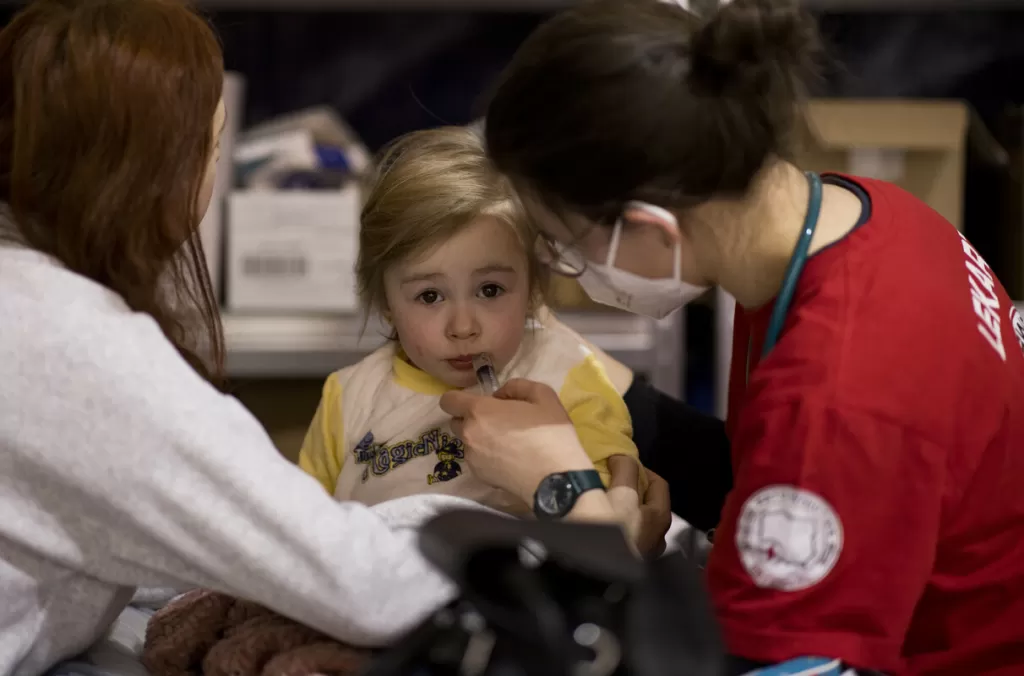 URGENT CARE
Oksana's* daughter is cared for by a medical team in Poland, in March 2022.
As conflict escalated in Ukraine many mothers crossed the border with young children and only the items they could carry. Oksana's* daughter Liliana* was ill with fever when they arrived at the Red Cross Poland Humanitarian Aid point in Przemysl, Poland.
DEC charities have been providing medical care for refugee families and supporting healthcare facilities in Ukraine with medical supplies, trauma kits and neonatal incubators. In the first six months of the DEC response, 71,300 accessed primary healthcare, thanks to donations to the DEC Ukraine Humanitarian Appeal.
*name changed to protect identity
Photo: Toby Madden/DEC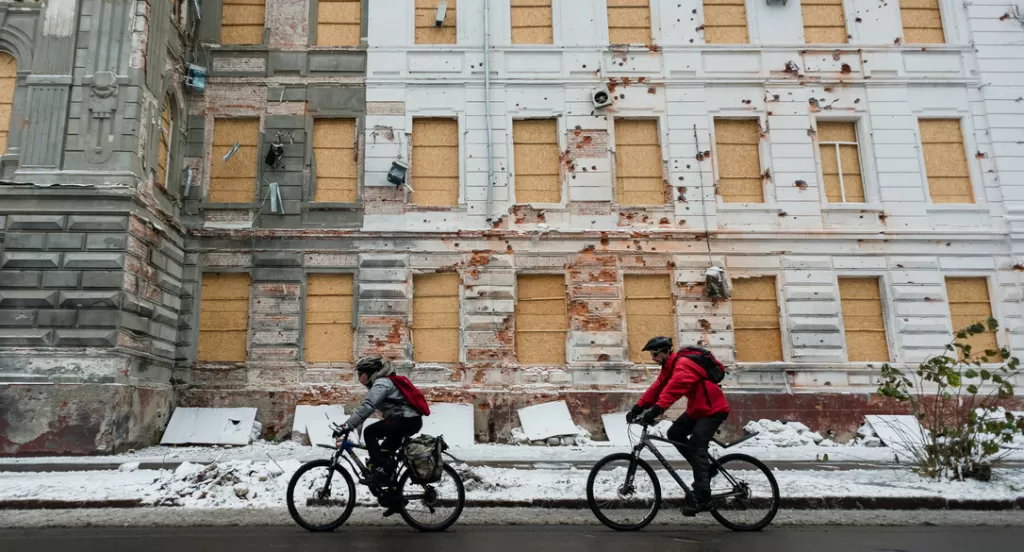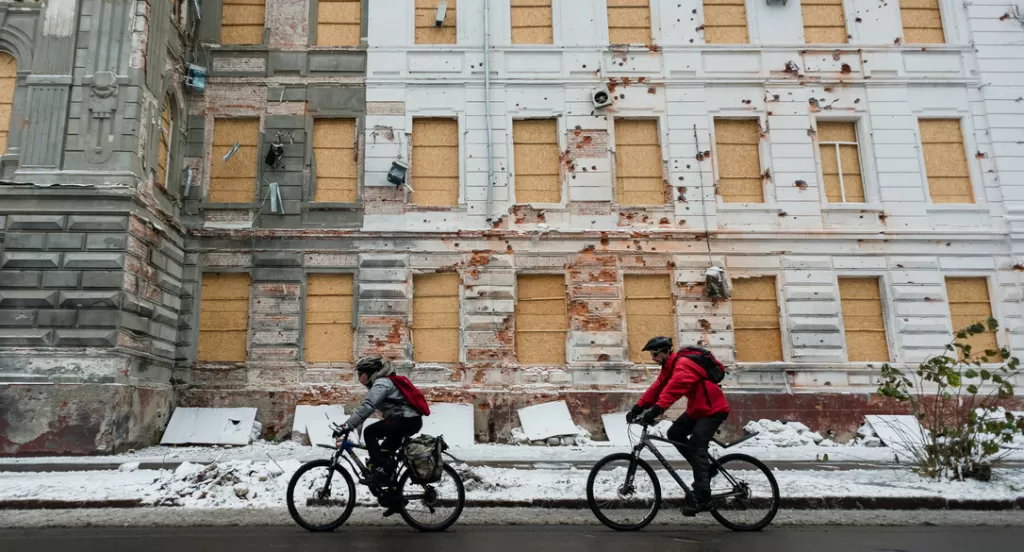 MEALS ON TWO WHEELS
Volunteer cyclists deliver food aid in Kharkiv, November 2022. When the conflict in Ukraine escalated, older people, those with disabilities and others who remained in the country were left isolated, without access to food and necessities.
In Kharkiv, Ukraine's second largest city, DEC funds are ensuring regular food baskets are delivered to people's homes. When fuel shortages threatened to impact aid deliveries, a group of cyclists offered to help. For the past year, Viktoria*, Oleh and other volunteers with Depaul Ukraine, a local partner of DEC charity CAFOD, have been providing a lifeline to hundreds of housebound people.
In the first six months of the conflict, 392,700 people in Ukraine and refugees in neighbouring countries received food assistance such as hot meals, food packages and groceries, thanks to DEC funds.
*name changed to protect identity
Photo: Maciek Musialek/DEC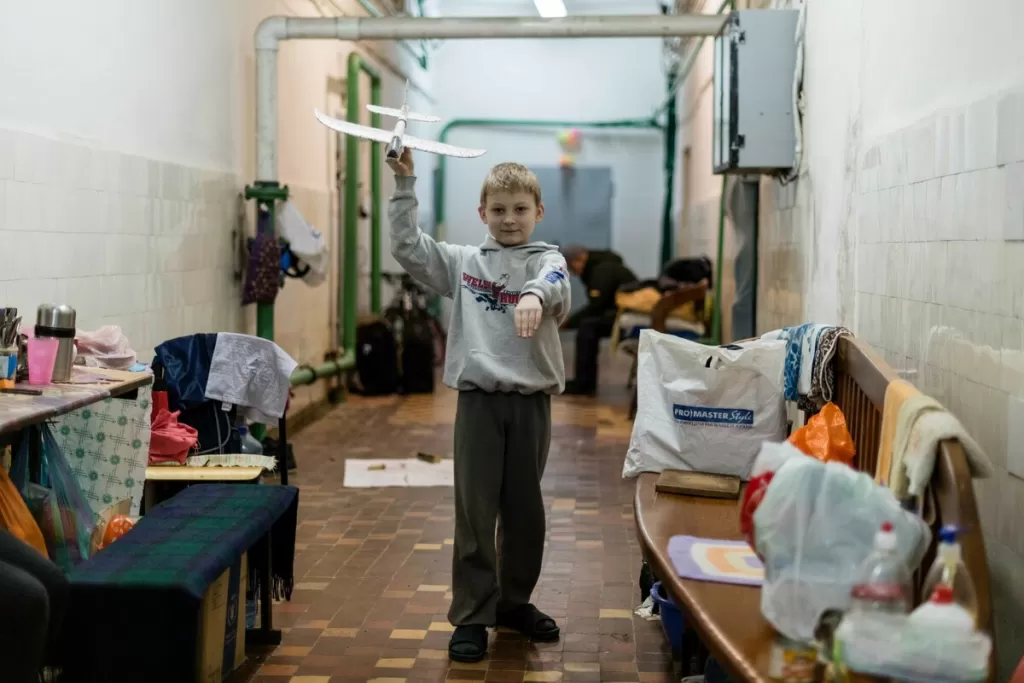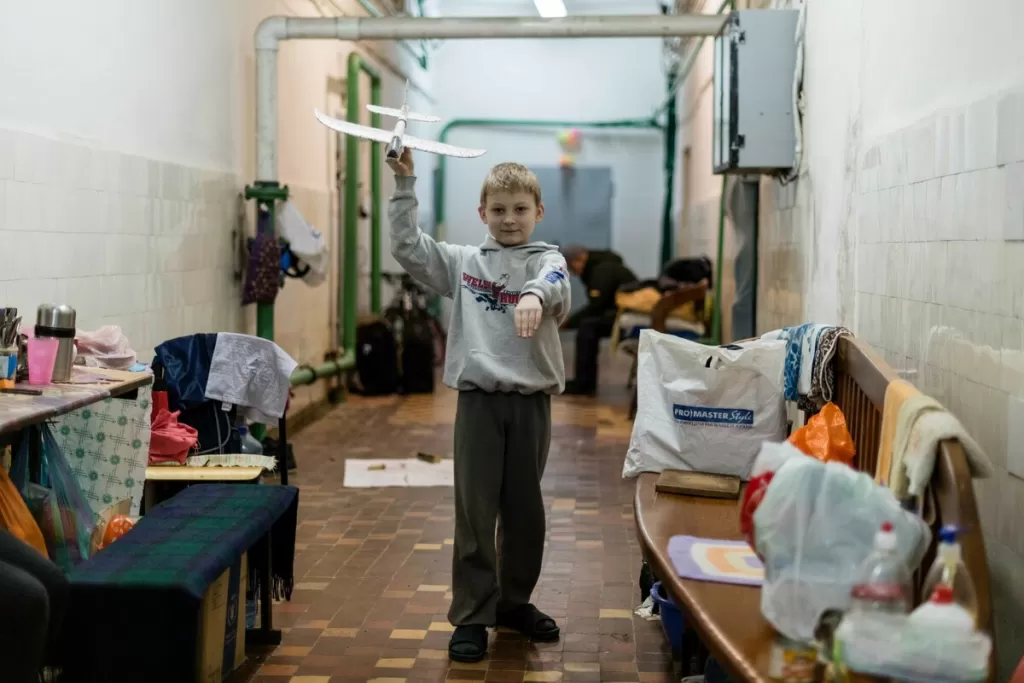 FLYING UNDERGROUND
Kolia* plays in a bomb shelter where his family are safe and warm, November 2022
Kolia's mother Yulia says life was beautiful before the conflict. The children would go swimming, take art classes and play sports. When the family first fled their home they sheltered in cold, damp basements, surviving on cookies and water. Now they are staying in a public bomb shelter in Kharkiv, which DEC funds have equipped with generators and warm blankets. Yulia says Depaul Ukraine, the local partner of DEC charities CAFOD and Plan International, are heroes who risk their lives to support them.
Donations to the DEC Ukraine Humanitarian Appeal allowed DEC charities to provide shelter to 10,800 people in Ukraine and neighbouring countries in the first six months of the conflict.
*name changed to protect identity
Photo: Maciek Musialek/DEC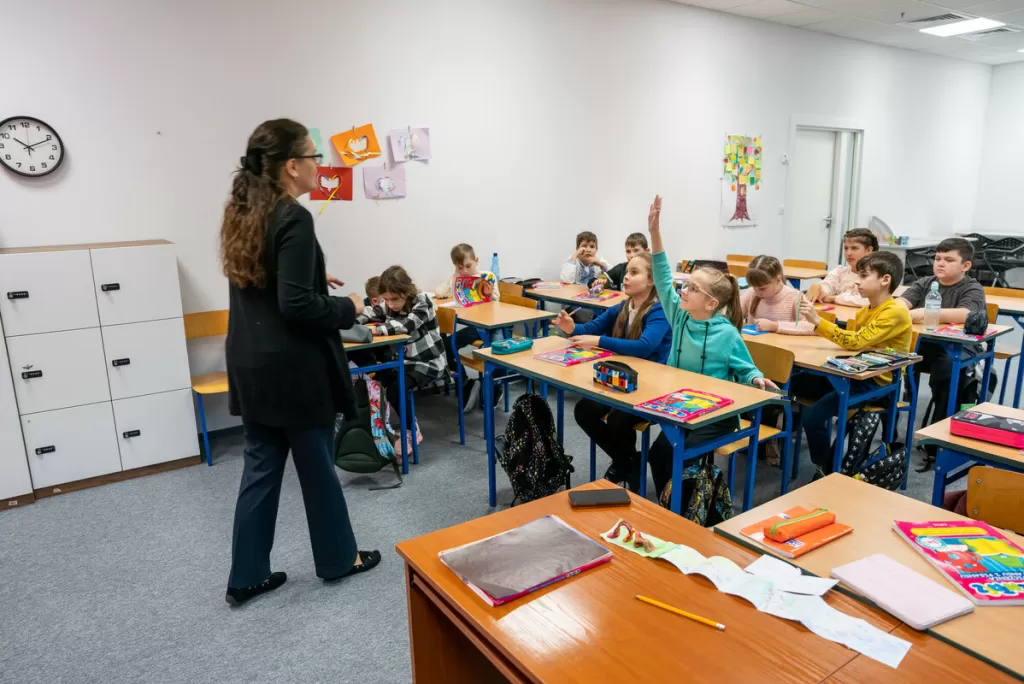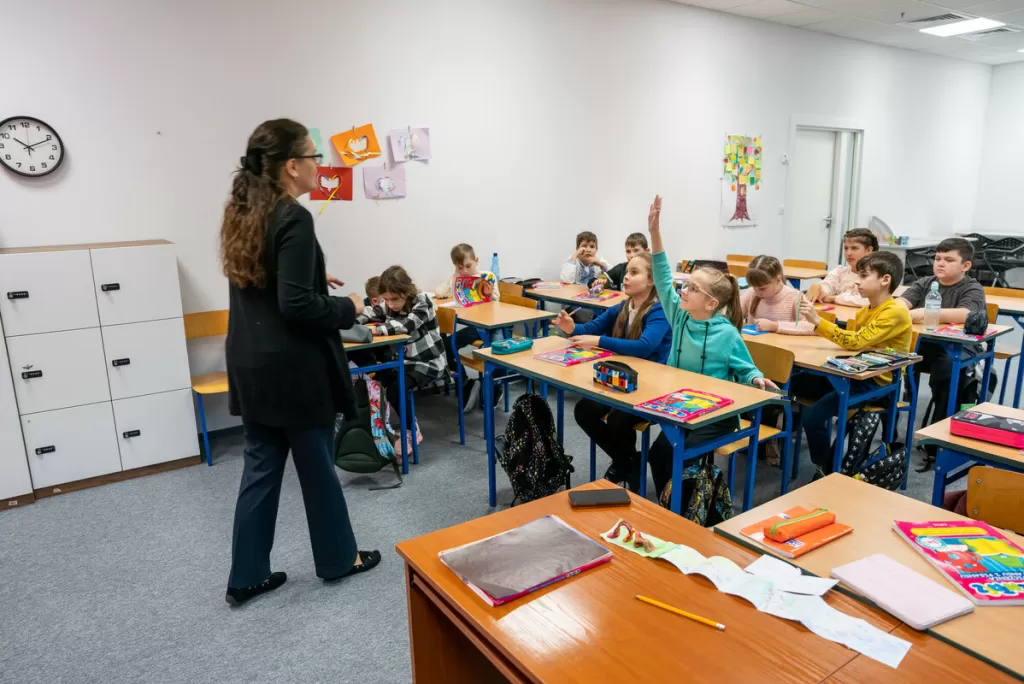 LEARNING ABROAD
Children attend a Ukrainian school set up in Poland, in October 2022.
Many refugee children from Ukraine face challenges in accessing education in a new country. DEC charity Save the Children and its partner Unbreakable Ukraine Foundation supported three schools in Poland for refugees. The schools are staffed by displaced teachers from Ukraine and teach the Ukrainian curriculum alongside intensive Polish language classes during a summer camp to help children integrate into their host country.
Save the Children is using DEC funds to provide the infrastructure, stationery, books and lunchtime meals to support pupils across these schools.
Photo: Paul Wu/DEC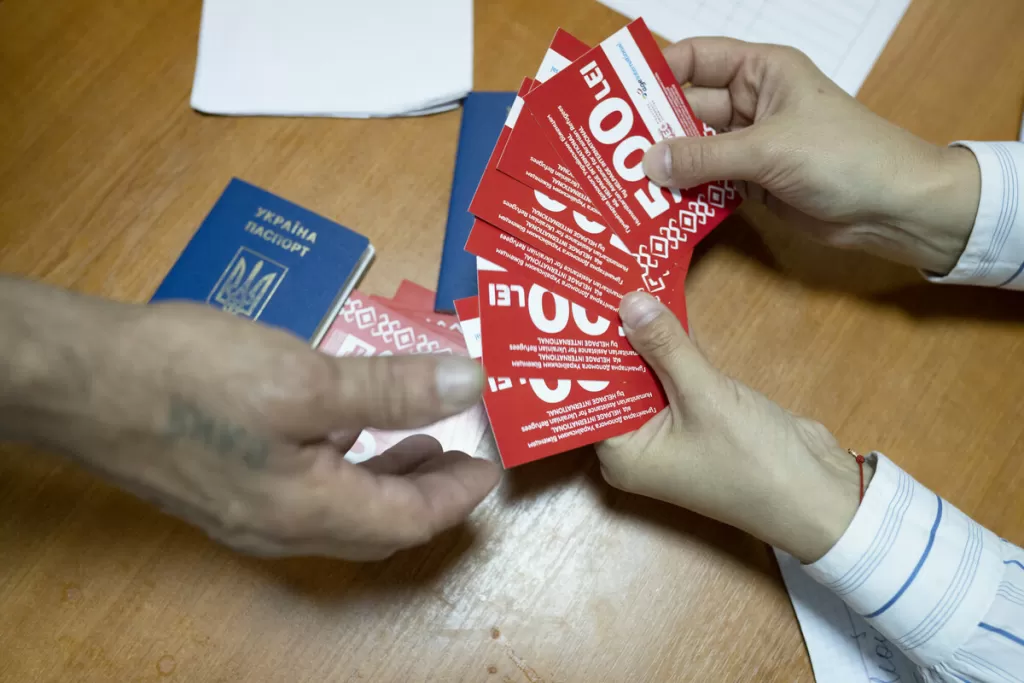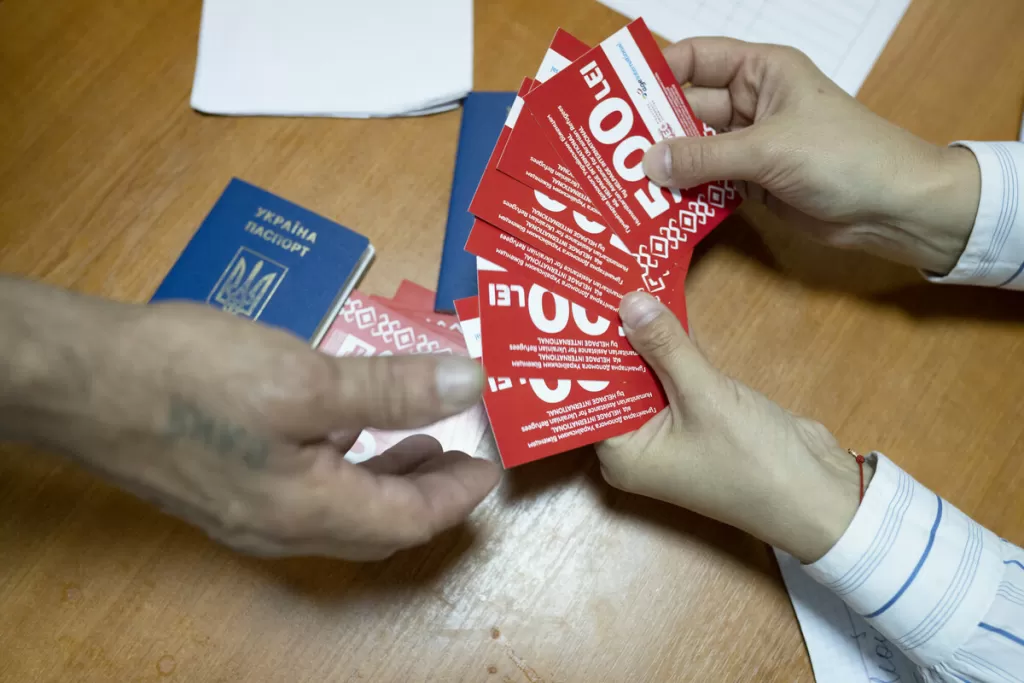 CASH VOUCHERS
An older refugee in Moldova receives vouchers, August 2022.
Many people fled the conflict in Ukraine with little or no money, including older refugees who lost access to their life savings and have been unable to work. DEC-funded cash vouchers distributed by Age International's local partner HelpAge International, give refugees the freedom to choose what food they buy from the local supermarket. The project is run by working with local government through the Moldovan government's refugee registration database.
In the first six months of the DEC response which spans five countries, 338,000 people received multi-purpose cash assistance to meet their basic needs, and this continues to be one of the most efficient ways DEC charities are supporting people affected by the conflict.
*names changed to protect identity
Photo: Andreea Câmpeanu/DEC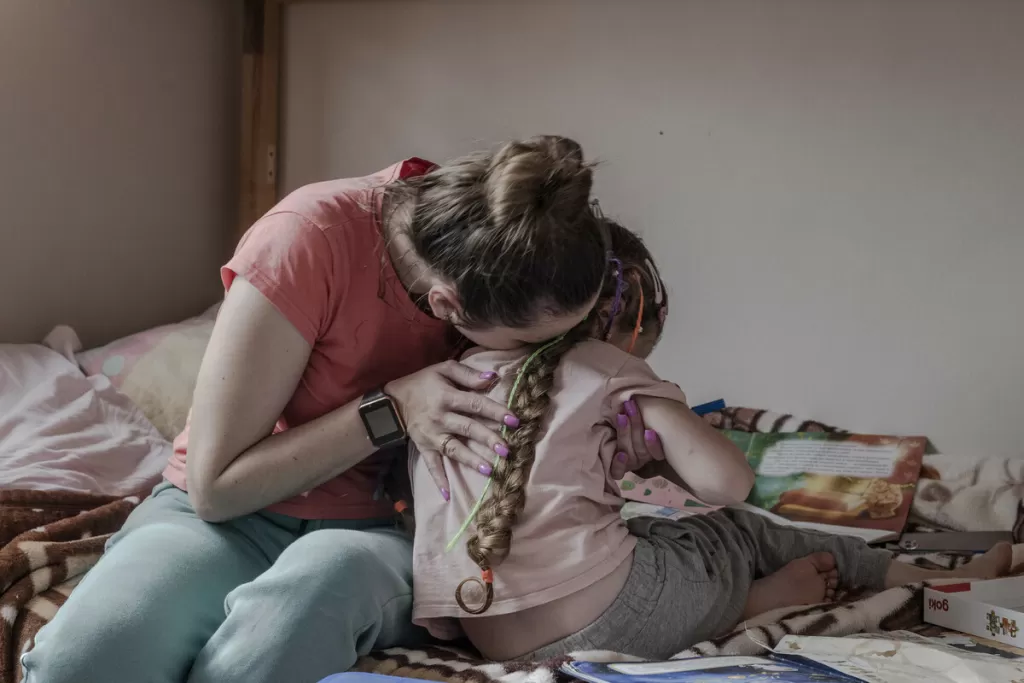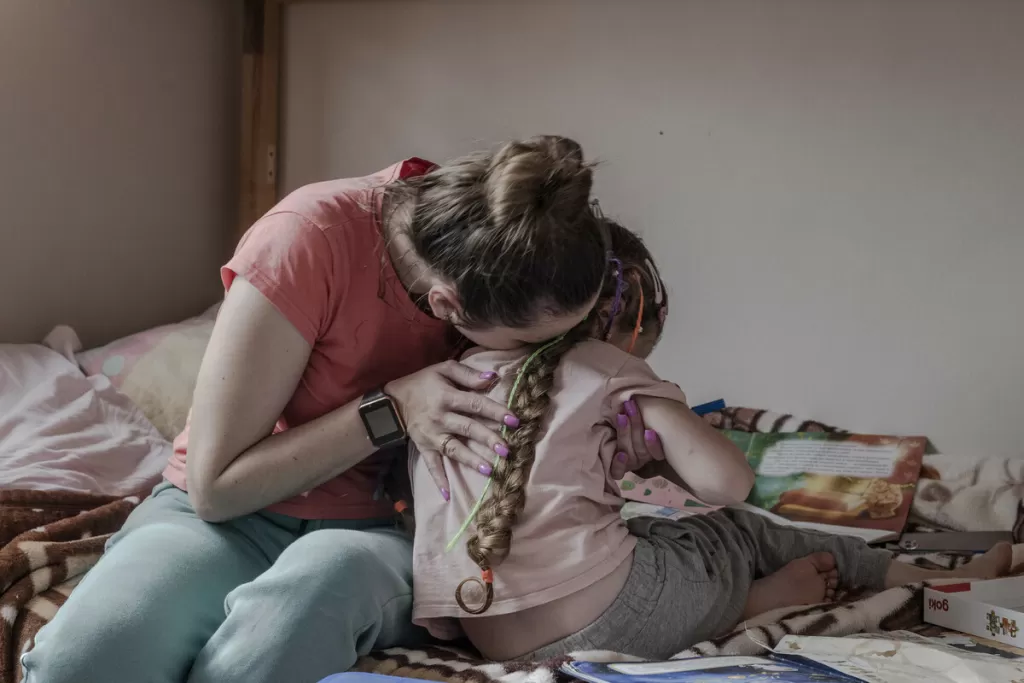 SAFE SPACES
Oksana* and her daughter Galyna* together in their room in a shelter in Lviv, June 2022.
Oksana* and Galyna* are one of the many families being supported by community-based organisations in western Lviv. DEC charity Christian Aid and their partner HIA supports local aid efforts by providing flexible small grants that meet the specific and changing needs of displaced families – from providing essentials like medicine and hygiene kits to legal help.
In the initial six months of the DEC response, 114,800 people displaced by the conflict received legal assistance and support. *name changed to protect identity.
Photo: Kasia Strek/DEC
FIND OUT MORE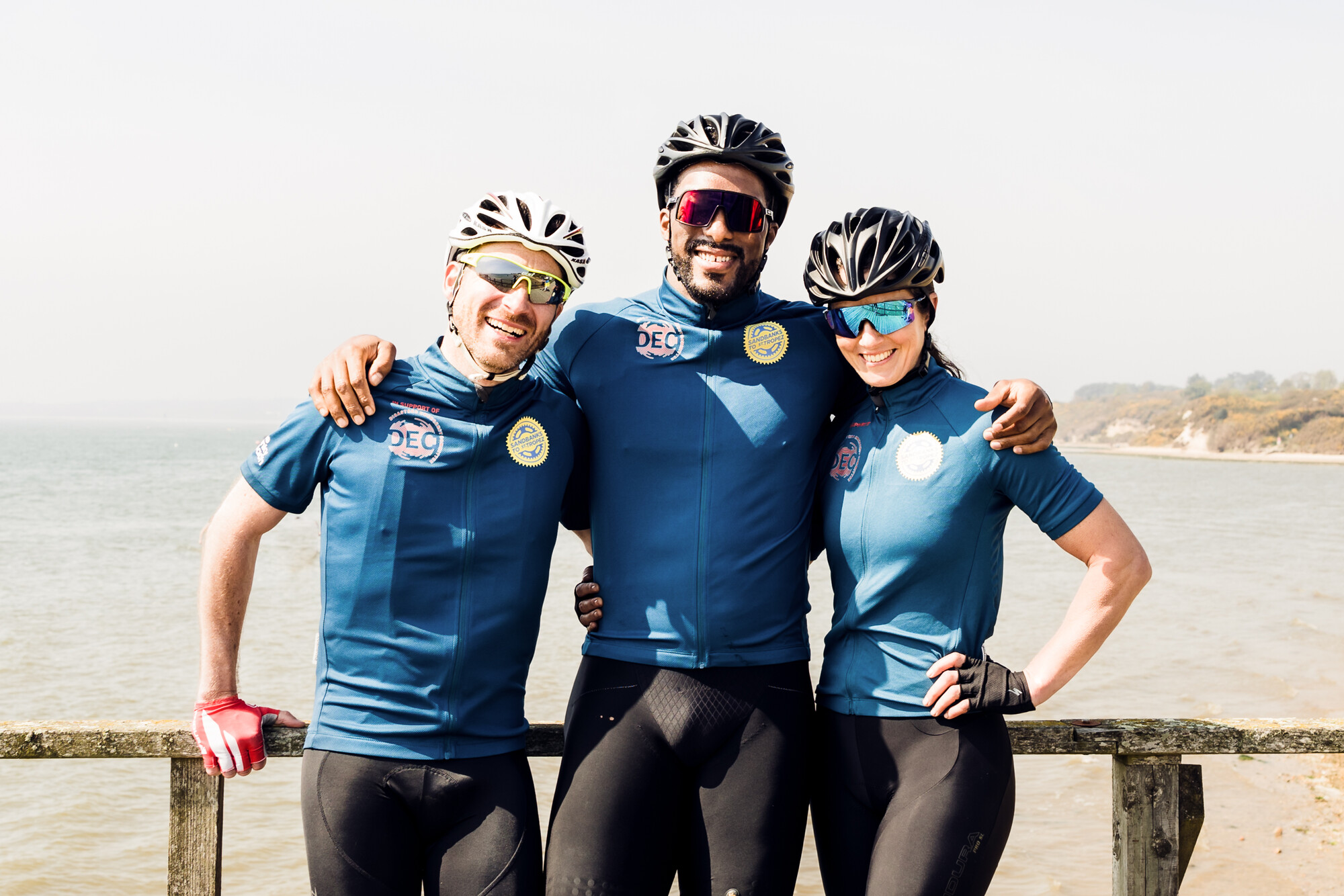 THANK YOU FUNDRAISERS