Archie's 'Beat the Beast' Challenge
07/08/19
One of the DEC's most inspiring fundraisers is Archie Douglas who was diagnosed with a terminal brain tumour five years ago. Archie has now raised a fantastic £6,370 to support the Disasters Emergency Committee's (DEC's) work to provide life-saving relief for crisis-affected communities.
Archie Douglas, from Edinburgh, who has twice served in Afghanistan with the Royal Regiment of Scotland, has made a remarkable recovery with the help of pioneering surgery and aggressive radio- and chemotherapy, but the neurological side effects mean he is currently unable to work. 
Instead, he is putting all his efforts into his 'Beat the Beast Challenge' combining a strict balanced daily lifestyle along with walking, learning to act, sing and play golf to raise funds for the DEC. 
The Beat the Beast Challenge in numbers (as of July 2019):
2,288 golf balls played
7,742.92 miles covered under his own steam
417,548 ft height climbed
48 months survived
£6,372.16 raised for the DEC
In October 2018, Archie walked across Scotland to support the DEC's appeal for the survivors of the tsunami in Indonesia. Archie set off from Bowling on the Clyde in West Dunbartonshire and walked the length of the Forth/Clyde and Union Canals, arriving in Edinburgh three days later, having walked a total distance of 63 miles.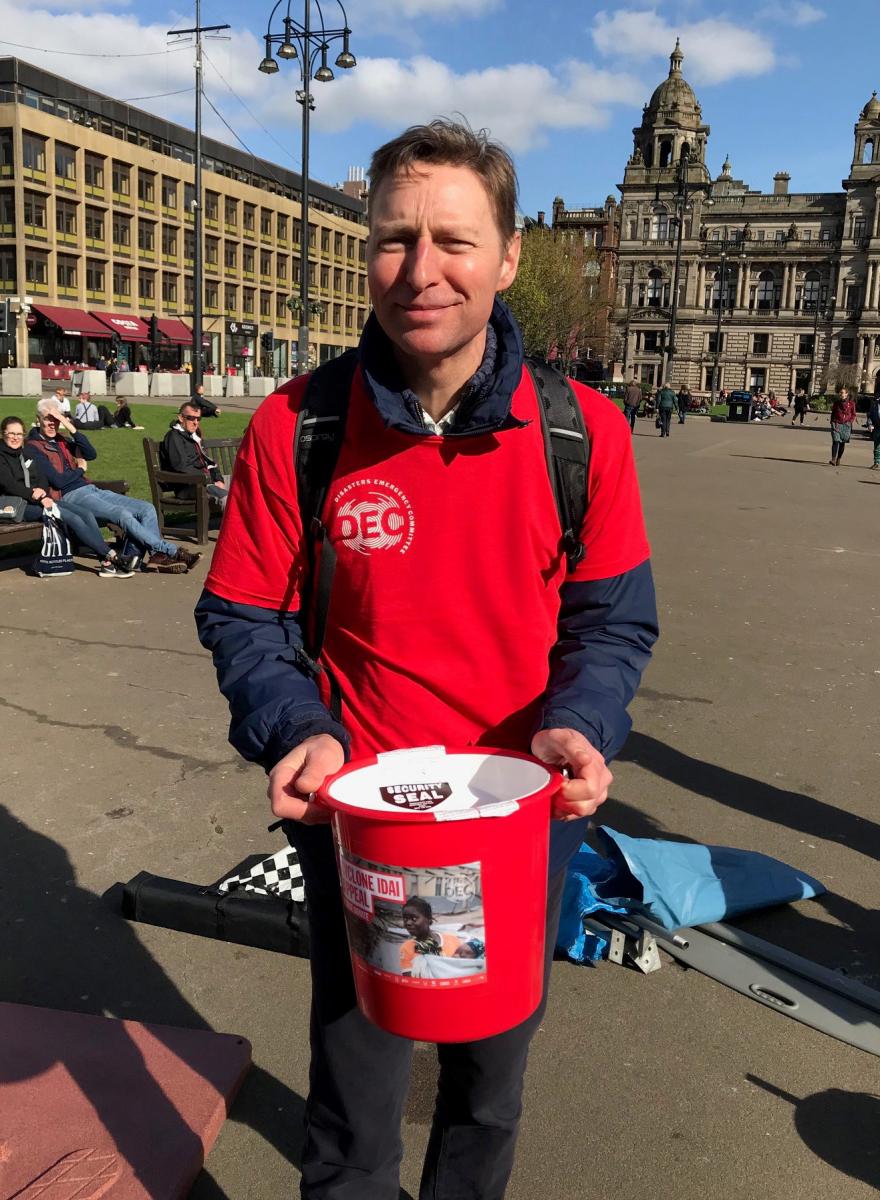 Archie fundraising for the Cyclone Idai Appeal in Glasgow.
Along the way Archie talked to as many people as possible to tell them about the work of the DEC and, of course, encourage people to walk with him and support the Indonesia Tsunami Appeal. 
"Learning to act, sing, and play golf and to see my slow and steady neurological improvements gives me hope for a future in work," says Archie. "Fundraising for the Disasters Emergency Committee to help save the lives and improve the life chances of thousands of people in communities ravaged by disaster gives me a purpose." 
Archie started his fundraising in August 2017 soon after the DEC launched the Emergency Appeal for People Feeling Myanmar. He has contributed to the Cyclone Idai Appeal as well as the Indonesian Tsunami Appeal.
"Please challenge me to beat my beast of neurological dysfunction and to prevent my brain tumour from ever returning by sponsoring me for just £1 per month," says Archie. "I guarantee you that every single penny raised goes to the Disasters Emergency Committee."
If you'd like to fundraise for the DEC, download our latest fundraising pack here, or follow us on Twitter, Facebook or Instagram to help respond when the next disaster strikes.