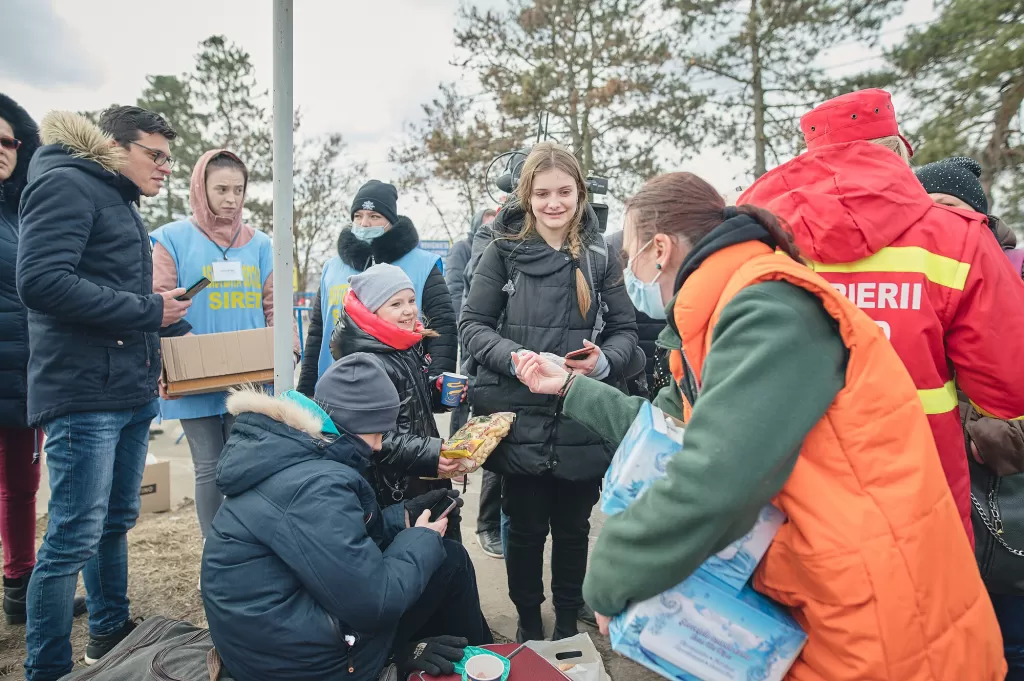 Ukraine
Humanitarian Appeal
Ukraine
Humanitarian Appeal
Families fleeing the conflict have left their homes with only the items they could carry. Help us provide food, water, shelter, healthcare and protection.
Key facts
18 million
people are projected to be affected by the conflict
13 million
people - over 1/4 of the population - have fled their homes since the conflict began
Donations to the DEC appeal are supporting people like Ivanna* from Ukraine, whose house was damaged in the conflict. She and hundreds of other vulnerable people in Kharkiv receive regular food basket deliveries. Photo: Dmytro Minyailo/DEC
How donations are helping
Donations to our appeal go to our member charities and their local partners responding in Ukraine and in neighbouring countries. DEC charities are experts in humanitarian relief with decades of responding to crises around the world – from earthquakes to floods as well as conflicts. Find out some of the ways they're helping people fleeing the conflict in Ukraine.
Reports
Find out more about how DEC charities are planning to use appeal funds to respond to the crisis.
Latest updates
The latest on the appeal and the humanitarian situation in Ukraine.
Jump to
The Guardian: Women who fled Ukraine agonise over when to return
8 August 2022
A recent survey of Ukrainian refugees in seven countries by the United Nations high commissioner for refugees found that while most wanted to return to Ukraine eventually, only 16% planned to do so imminently.
Kompaniets and her family decided to leave Budapest and return home in June, but then a missile hit a nearby town and they put their plans on hold. 
"Every day my conscience is crying out that we are sitting here, I want to get back home and help out in any way I can," said Kompaniets. The family is staying in a safe house run by Hungarian Interchurch Aid (HIA). 
DEC funds are supporting HIA's work inside Ukraine, and will continue to support refugees and displaced people for months and years to come, whatever the future holds.
i newspaper readers help give children in Ukraine a chance to laugh again
1 August 2022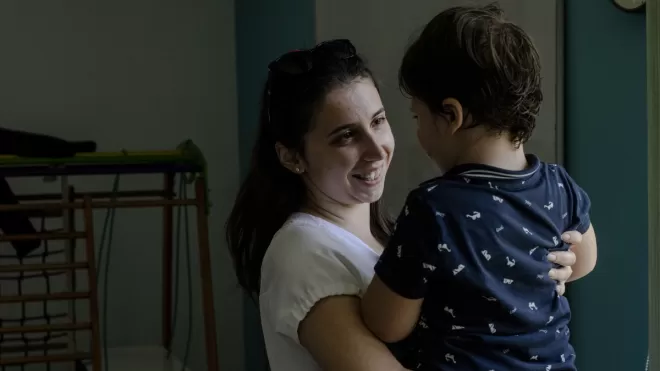 A shelter in a sports hall in Lviv in western Ukraine is abuzz with the noise of laughter, chatter and cheers, as Kristina* proudly watches her 10-year-old son Danylo* play table tennis with other displaced children.
It is thanks to the amazing generosity of the UK public - including i newspaper readers who have raised more than £857,833 for the DEC appeal - that families like Kristina's are able to find safety and solace after having their lives ripped apart by the conflict.
The i newpaper has partnered with the DEC to support our appeal. Saleh Saeed, DEC chief executive said, "I would personally like to thank i news readers for the extraordinary generosity they have given to the DEC's Ukraine Humanitarian Appeal."
Sports activities help displaced families in Lviv
29 July 2022
The day conflict broke out in Ukraine, this sports hall in Lviv was one of the many public building to provide shelter to displaced families. Since then, it has been a temporary home to over a thousand people. 
DEC charity Christian Aid and their local partner Hungarian Interchurch Aid began by supporting people with food, hygiene and shelter items. Staff and volunteers then asked families what other support they needed and the majority said they wanted to keep active as spending so much time indoors was affecting their physical and mental wellbeing.
Today, the centre is alive with sports facilities and activities taking place for all ages. Families like Kristina's say this is helping them to stay active, healthy, and take their minds off of their situation.
School pupils release video of uplifting New Order song to raise funds
14 July 2022
School pupils from St Matthew's RC School in Manchester are releasing an uplifting take on New Order's song 'Ceremony' this week, in support of the DEC Ukraine Humanitarian Appeal.
After discussing their feelings and worries about the conflict in Ukraine, pupils in Year 7, 8 and 9 enlisted the help of their music teacher and approached New Order to ask for permission to perform and release their own version of the band's song, 'Ceremony', originally recorded in 1981.
Steve Millington, Head of Music at the school said, "When the conflict in Ukraine began, students were obviously disturbed by the images they'd seen... They came up with the idea of performing a song to raise awareness of the refugee crisis... I'd like to really thank New Order; they've allowed us to use the track, copyright free. They've been amazing."
Taiwo Uthman, aged 14, said, "We've put our heart into this and what we'd like to see is people sharing the video and raising money for the refugees."
Shan Burhan, aged 13, said, "I joined this project because I like music and I think it can change people's lives... And giving to charity made me feel less anxious."
Ukraine conflict puts further strain on health facilities
28 June 2022
Around 20 people are reported to have been killed and dozens injured in a shopping mall in Kremenchuk, central-eastern Ukraine, as the conflict continues to devastate lives and put a strain on Ukraine's healthcare system.
Even before the conflict, health facilities in Ukraine were already under strain from the Covid-19 pandemic and years of under-investment. The urgent need to treat trauma patients is disrupting the provision of basic essential services, with the conflict driving shortages of staff and medical supplies at the same time as it creates a spike in public health risks due to displacement and poor shelter. 
DEC charities and their local partners are supporting primary healthcare services, providing trauma and first aid kits, surgical training, medicines, drugs, as well as supporting healthcare facilities with equipment such as incubators and oxygen compressors and vital pharmaceutical products. 
Cash vouchers help families in Romania buy essential supplies
24 June 2022
DEC funds are ensuring refugees in Romania receive cash vouchers that allow them to buy food and other essentials, according to their specific needs.
Saleh Saeed, Chief Executive of the DEC, visited some of families being supported by DEC charities in Bucharest, thanks to donations to the Ukraine Humanitarian Appeal.
In Bucharest, Romania, refugees from Ukraine are receiving cash vouchers from DEC charity @PlanUK and their local partner, allowing people to purchase food and other items.

Thank you for supporting the DEC #UkraineAppeal. pic.twitter.com/UDHzMGUrG1

— DEC (@decappeal) June 24, 2022
Volunteer cyclists deliver food baskets in Kharkiv
9 June 2022
In Kharkiv, Ukraine's second largest city, DEC funds are supporting an innovative project that delivers regular food baskets to people's homes, thanks to a network of volunteer cyclists. 
The idea was born after fuel shortages threatened to impact aid deliveries. One volunteer, desperate to find a way to send food to her friend, put out a message on social media that spread among friends who remained in Kharkiv with their bicycles.
The cycling team's efforts are now a lifeline for 700 housebound people.
Ukraine Humanitarian Appeal raises £350 million
9 June 2022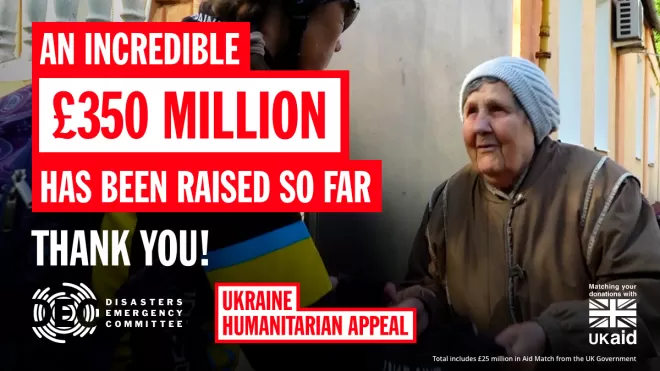 Three months after it was launched, the DEC Ukraine Humanitarian Appeal has raised £350 million. 
Donations to the appeal are continuing to fund work by DEC charities and their local partners in Ukraine and in neighbouring countries, meeting people's immediate and longer term needs. 
UK public's generous response to DEC's Ukraine appeal sets new Guinness World Records title
11 May 2022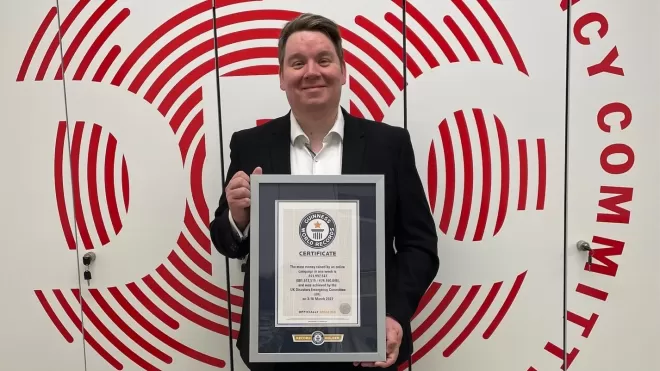 The UK public response to the DEC Ukraine Humanitarian Appeal has set a new Guinness World Records title for the most money raised by an online campaign in one week. Following the incredibly generous support from the British public a staggering £61,997,547 was donated online between 3-10 March 2022.  
This is the second time the DEC has achieved a Guinness World Records title - the first being in 2004, following the Boxing Day Tsunami when £10,676,836 was raised online in just 24 hours.  
Simon Beresford, Director of Fundraising and Marketing for the DEC said: "At the DEC we have been overwhelmed by the incredible generosity and outpouring of support from the UK public to the people of Ukraine. It has been heart-warming to see the inspiring fundraising efforts which are ongoing, with donations flooding in from individuals, companies, schools and arts organisations across the UK.  
"We are of course proud and delighted to have taken a part in setting a new world record. However, most importantly what this means is that with the help of the generous UK public DEC charities and their local partners can scale up to respond to help the people of Ukraine."  
The Duke and Duchess of Cambridge meet DEC aid workers as Ukraine appeal reaches £300 million
21 April 2022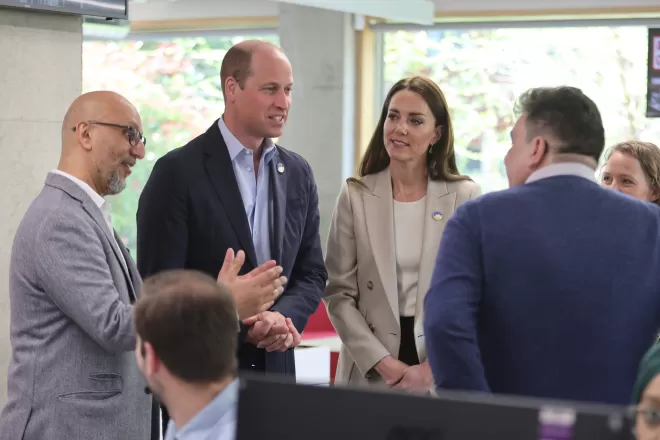 The DEC welcomed the Duke and Duchess of Cambridge to its London offices today as it was announced that the Ukraine Humanitarian Appeal has raised over £300 million. 
The Duke and Duchess met aid workers who have recently returned from Ukraine and neighbouring countries. They also spoke to staff in Ukraine via video link to get a clearer picture of the current situation and hear about how aid is helping people in need.
The visit came as the 13 member charities of the DEC that are responding to the crisis laid out plans for their response over the first six months.