Cyclone Idai swept through Mozambique, Malawi and Zimbabwe killing at least 960 people and leaving 3 million in need of humanitarian assistance. The terrifying storm reached wind speeds of 177 km/h (110 mph) and flooding ripped apart roads, bridges, houses, schools and health facilities and created an inland lake more than twice the size of Greater Manchester.
Here are just some of the stories of people affected by the cyclone.
Rosa spent five days trapped in a tree with her husband and their five children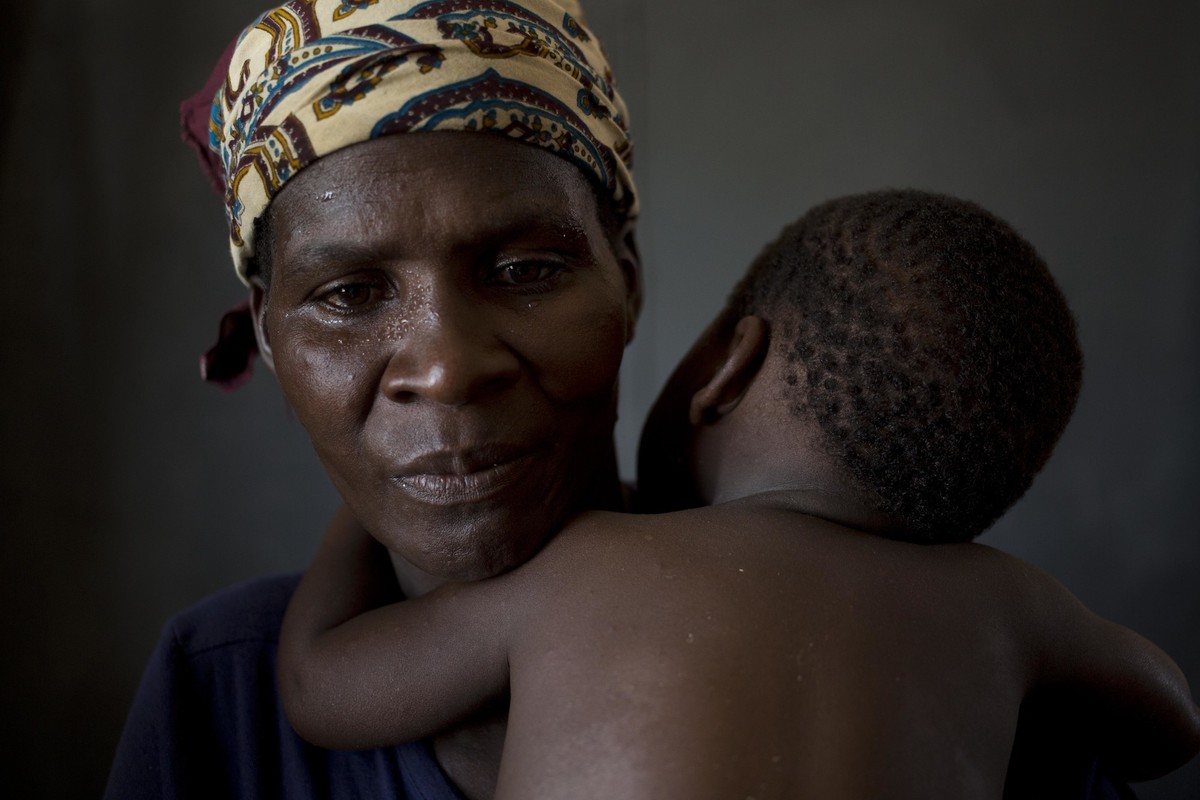 Rosa holds her son, John, who has a high fever as he is screened for malaria in Dondo, Mozambique. Image: Karel Prinsloo/DEC
"My name is Rosa, I do not know my age. I am here with my son and he is almost two. I live in Thika. We live in a traditional house made from grass and wood."
Rosa escaped the flood waters that destroyed her home by climbing a tree. The flood waters had nowhere to go and Rosa and her husband along with their five children were trapped in the tree for five days.
"Now we are living in a camp in Thika. Three of the children are in Beira with family. When we were in the tree we did not eat anything, but one day a helicopter came to help us. They tried to take the kids but it was difficult so they threw us some biscuits. For drinking water we were catching the rainwater."
Rosa is pictured holding her son, John, who was suffering from a high fever and was tested for malaria. John did not have malaria and was given some medication to bring down his temperature. DEC charities are working to bring much needed aid to people affected by Cyclone Idai, including essential medical assistance, but more is needed.
"I am asking help to have a house and some clothes. I have no clothes. We need blankets and a proper place to live."
Clara is worried about providing for her family after Cyclone Idai destroyed her livelihood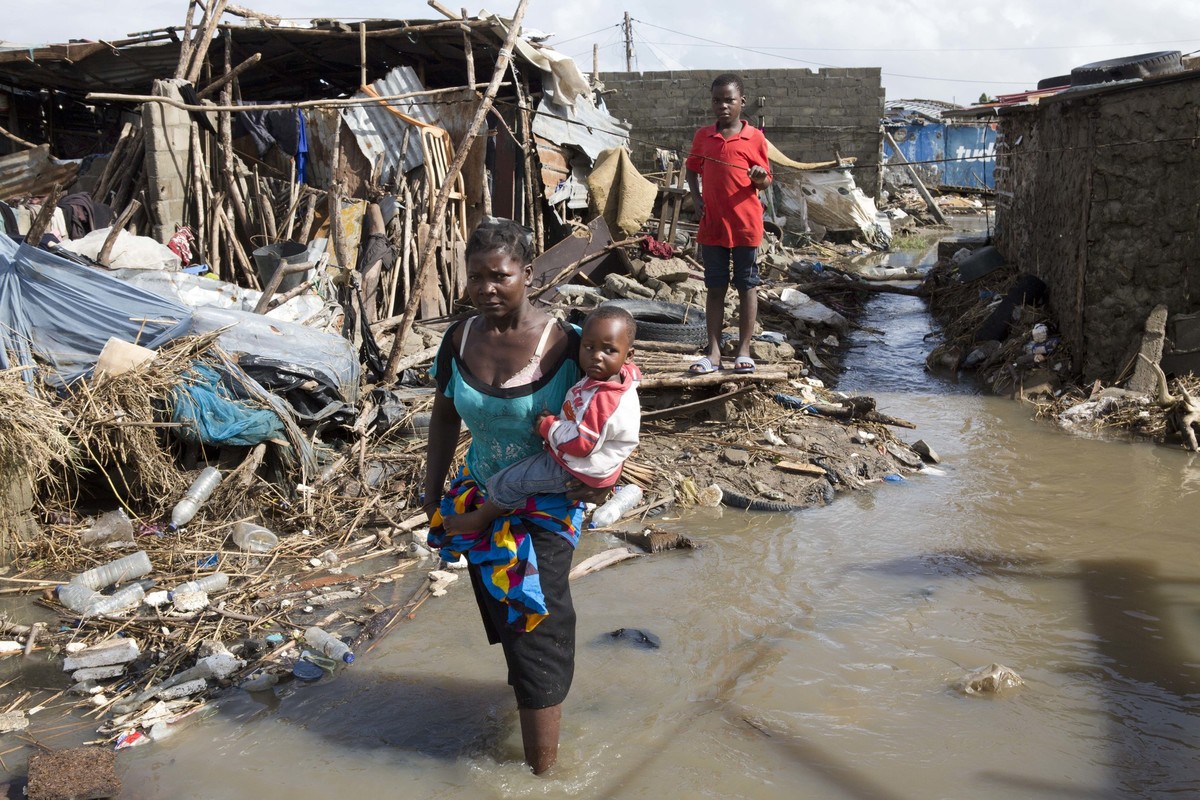 Clara holds her son as she walks through standing water near her house in Beira City, Mozambique. Image: Karel Prinsloo/DEC
Clara is pictured here wading through the water near her flooded and badly damaged home in Beira, Mozambique. A single mother of five children, she is worried about how to rebuild her life following the cyclone.
"I woke up and the wind was blowing. I ran outside with my children. I have five children. My husband died a long time ago. We sought shelter. How will I live now? I used to sell bananas from a tree of mine. It is all gone. Who will help me now?"


Louis and Isabelle are worried about their relatives, who they haven't heard from since the cyclone hit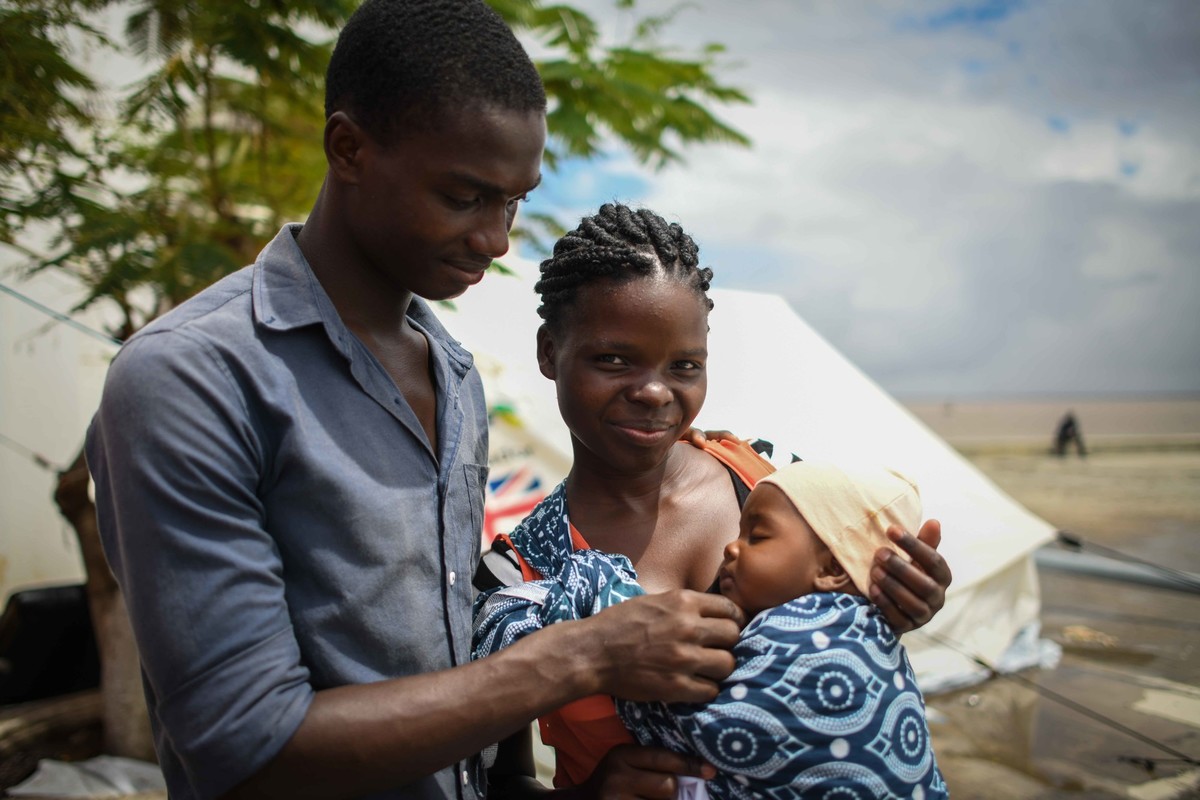 Louis and Isabelle wait for news near the Beira port, Image: Corrie Butler/British Red Cross
Louis and Isabelle are pictured here with their four month old son, Cefas. Isabelle's family lives in Buzi and she has not heard from them since the cyclone hit. Louis said: "We are very worried - Isabelle is very worried. But we are grateful that we are safe."
Like almost every building in Beria, their home was damaged in the cyclone. "The most valuable thing I lost was my books," said Louis, a student at the local university.


Shaud and her family lost their only source of income in the floods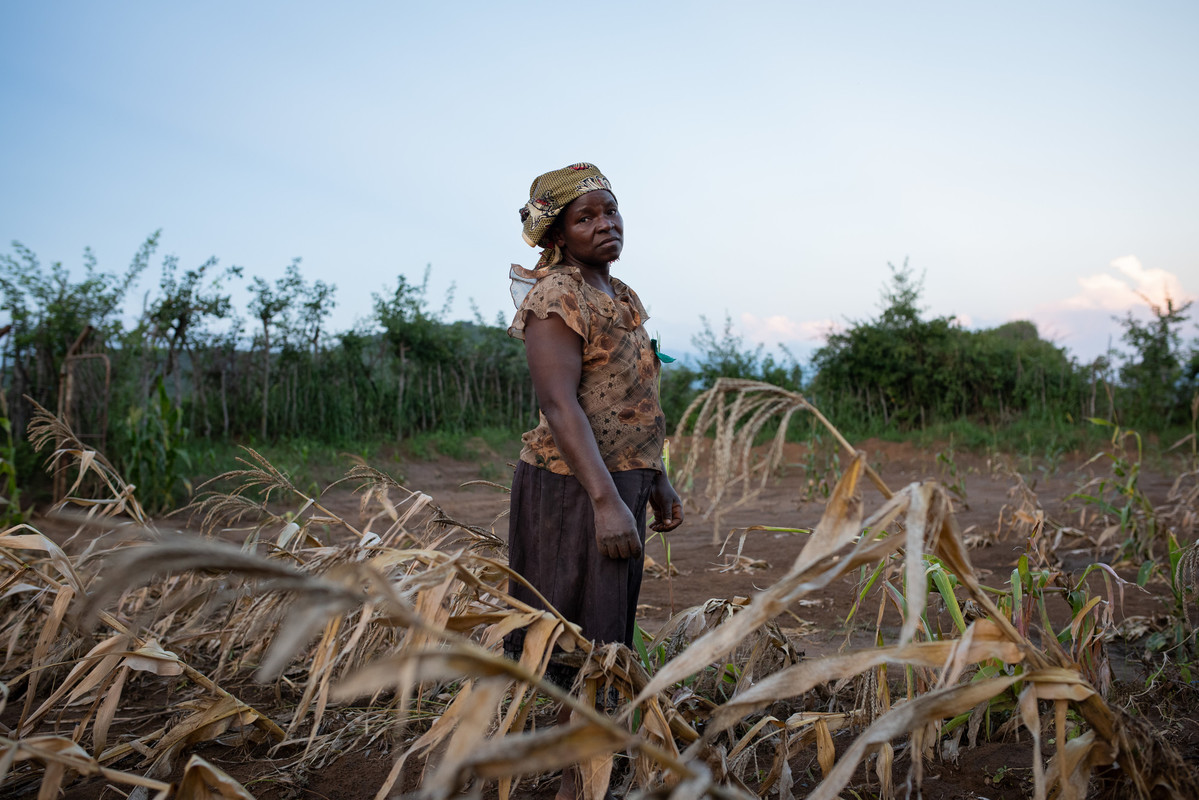 Shaud stands in a field devastated by the cyclone. Image: Philip Hatcher-Moore/Oxfam
Shaud is pictured here standing among her destroyed crop field beside her home, a village 80km from Chimanimani in Zimbabwe. Her entire crop was destroyed just ahead of harvest time, while the flood also washed away most of her belongings.
Shaud escaped the storm with her four children and a few essentials (including their passports, birth certificates and a few blankets). They stayed with a neighbour for a week, whilst the water subsided. When they returned to their home, they were shocked by the level of destruction. Shaud said: "We lost everything. I have lost all hope. We don't know where to begin to fix all this."


As a mudslide approached her home, Lisper was forced to make a heart breaking decision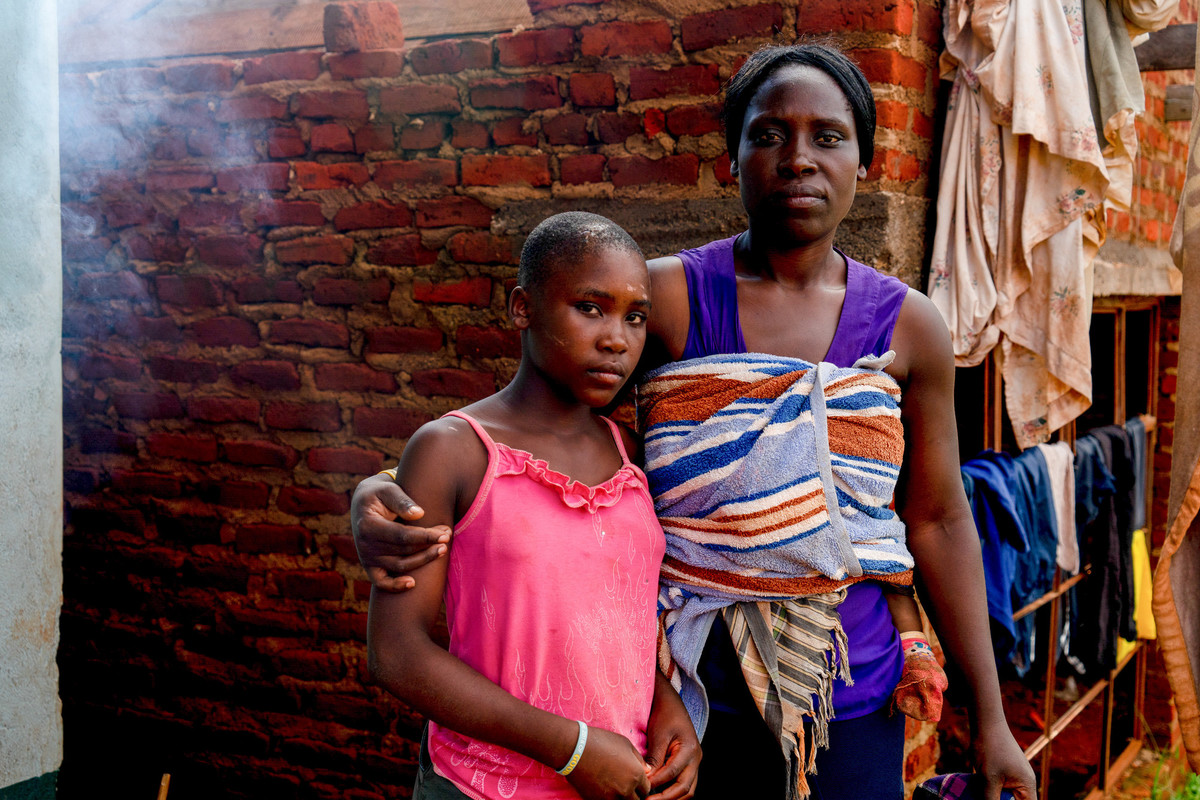 Lisper stands with her daughter Levette, who was rescued from a tree after being swept away by flood waters. Image: KB Mpofu/Christian Aid
Lisper was standing on her verandah with her children and some other local families near Chimanimani in Zimbabwe. The storm had been raging around them for some time, but then the water changed course and a mudslide headed straight for them.
"After a few moments of watching the mudslide approach, I decided that me and my kids should run," said Lisper. "I put the little baby on my back, and held the other two by hands." 
"A few minutes later, I heard my eldest daughter (Levette) call out my name. She wanted my help. At that moment I had to make a quick decision, whether to go help her and risk losing the other three, or look after the other three and let her go. I chose to save the lives of the other three, it wasn't an easy decision." 
"She called me five times. After those five times, she was gone. The water swept her away."
"In the morning, I saw my husband come looking for us. My husband came bearing the good news that Levette had been found, she was rescued by a young man called Vincent. He took her down from the tree."
After four days, Levette received medical treatment and is recovering. But Lisper and the family are still traumatised. "Most of those people that I was with on my veranda are gone," she said. "That haunts me. Everyday."
Fraction and his grandson George have returned to their village to start rebuilding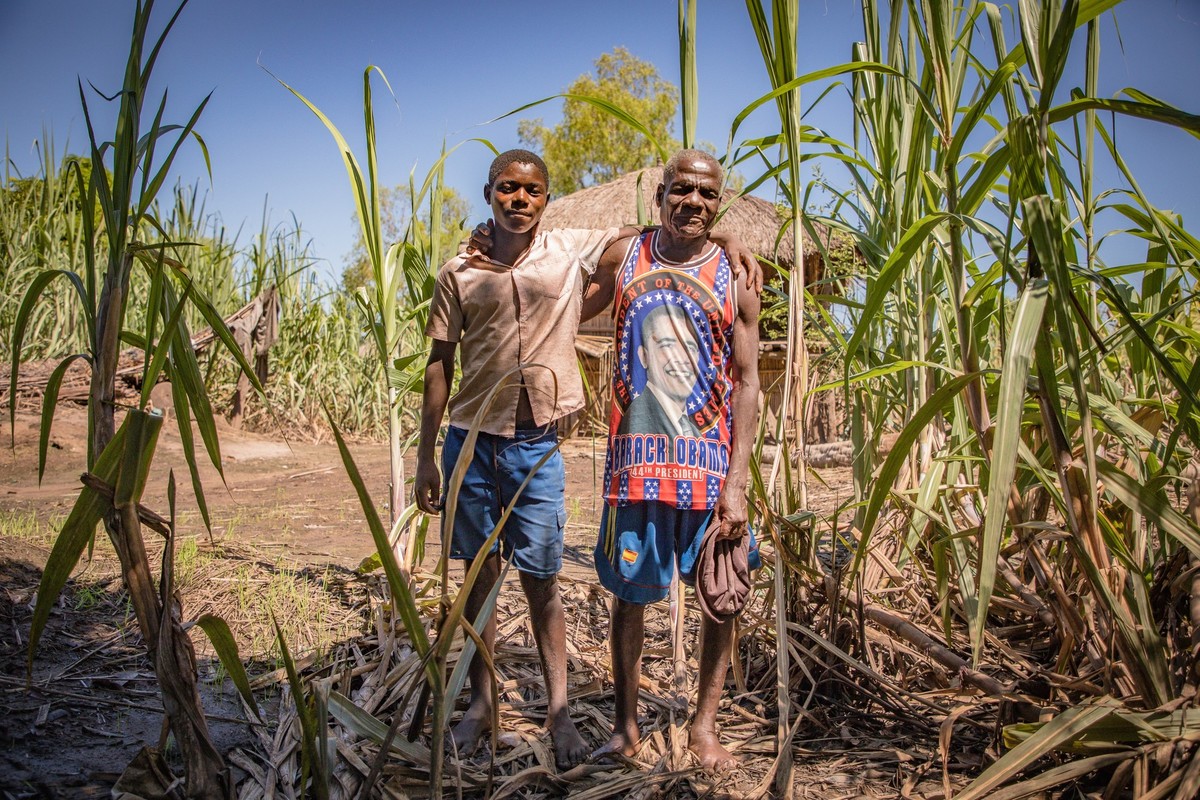 Fraction and George stand amid their damaged crops after returning to their village. Image: Gavin Douglas/Concern Worldwide
Fraction and his grandson George have come back to their village and start repairing some of the damage done by Cyclone Idai after their family was evacuated to the nearest displacement camp.
"We managed to rescue some clothes and kitchen utensils but everything else has been washed away," said Fraction. Now, they must wait for the flood waters to recede before they can begin farming the land again.
Cyclone Idai is possibly the worst weather-related disaster to ever hit the southern hemisphere. The effects will be felt for some time across Mozambique, Malawi and Zimbabwe. The most immediate needs are emergency shelter, food, clean water and medical assistance. This aid is already getting through, but more is still needed.
In addition to answering the most urgent needs of people affected by the disaster, DEC charities will provide longer term aid to help people rebuild. For example a Red Cross field hospital has been set up in Beira to provide medical and surgical interventions, as well as inpatient and outpatient care to 30,000 people. Psychosocial support services will also be provided to communities.
Save the Children will provide Child Friendly Spaces for children and families who have lost their homes, alongside health and education services. Oxfam will be providing seeds and livestock to help people recover their livelihoods.
As people across Mozambique, Malawi and Zimbabwe begin to rebuild their lives, you can help. Donate to our appeal today.
You can see an interactive timeline of the cyclone and DEC charities response here.