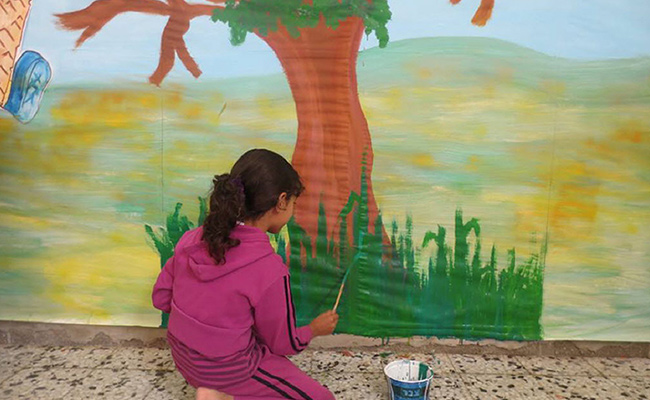 Child friendly space run by DEC member World Vision
DEC member agencies have provided aid and support to people in Gaza almost two million times since the crisis escalated just over six months ago*.
 
The combined work of some of the leading UK humanitarian organisations has provided immediate lifesaving assistance such as clean water to more than 350,000 people, food and vouchers to more than 65,000 families, relief supplies to more than 410,000 people and crucial psychosocial care for more than 72,000 people.
 
Agencies continue to help people rebuild their lives since intense fighting damaged or destroyed more than 100,000 homes, devastated farm land and pushed the health service to the verge of collapse in July and August 2014. The UK public responded generously giving £19 million to the two year response.   
 
Six months on however the wider humanitarian situation remains dire with the United Nations warning this week that the "situation teeters on the brink of another major crisis". In January, the UN was forced to suspend its cash assistance and rental subsidies to Palestine refugee families in Gaza due to a shortfall of US$ 585 million against the funds pledged by the international community. 
 
The pace and scale of reconstruction being led by the UN is slow due to this lack of funding but also restrictions and bureaucratic delays affecting the importation of some building materials and equipment.  This has forced many people in Gaza to endure winter storms in damaged homes. 
 
DEC appeal Chief Executive Saleh Saeed said:
"The scale and severity of destruction in Gaza is enormous and DEC member agencies will continue to work with the worst affected people for years to come. People are not only dealing with loss of homes and incomes, the majority have experienced or witnessed traumatic events, likely to cause lasting suffering without the right support."
 
The UN's Chris Gunness said that almost every child in Gaza has a family member or friend who was killed, injured or maimed for life and 1,000 of the 3,000 children injured in the conflict are likely to have physical disabilities for the rest of their lives. 
 
The combined efforts of seven DEC agencies are providing children and adults with safe places to share their experiences, counselling sessions, stress workshops, psychosocial first aid support and a hotline. The Palestinian Red Crescent deployed 135 staff and volunteers to provide psychosocial support to 32,000 beneficiaries during the conflict.
 
The DEC appeal closes to donations this week but the work of member agencies continues in earnest. 
ActionAid has supported 10,458 people with food and non-food items including blankets, mattresses, and warm clothing for children
Age International is providing psychosocial support and counselling for 700 older people, and setting up age-friendly spaces where older people can come together for support and access further services.
The British Red Cross has treated almost 10,000 people in hospitals
CAFOD is repairing or rebuilding 28 nursery schools that were damaged in the fighting, employing local people to do the work and enabling 5,824 students to return to education.
CARE has provided medical supplies to hospital, helping close to 160,000 people.
Christian Aid provided water tanks to hospitals, schools and families hosting displaced people, giving 7,878 families access to water.
Oxfam has provided 50,000 families with weekly vouchers so they can buy food from local shops - helping provide families with essential food supplies and also supporting local traders whose businesses were affected by the conflict
Plan, with its partners, has reached a total of 16,297 people by providing child friendly spaces, child protection outreach and psychosocial support.
Save the Children has distributed essential relief supplies such as baby hygiene packs, cooking kits and metal sheeting for shelters to 38,937 people.
World Vision has provided families with hygiene kits reaching more than 50,000 people. 
* Aid delivered by DEC members and their partners has been paid for with DEC funds and money from other sources.  Some people will have received different kinds of help from more than one DEC agency. For example it is likely that separate schemes providing large scale water delivery and weekly food vouchers targeting 50,000 of the most vulnerable families will have reached some of the same people.*