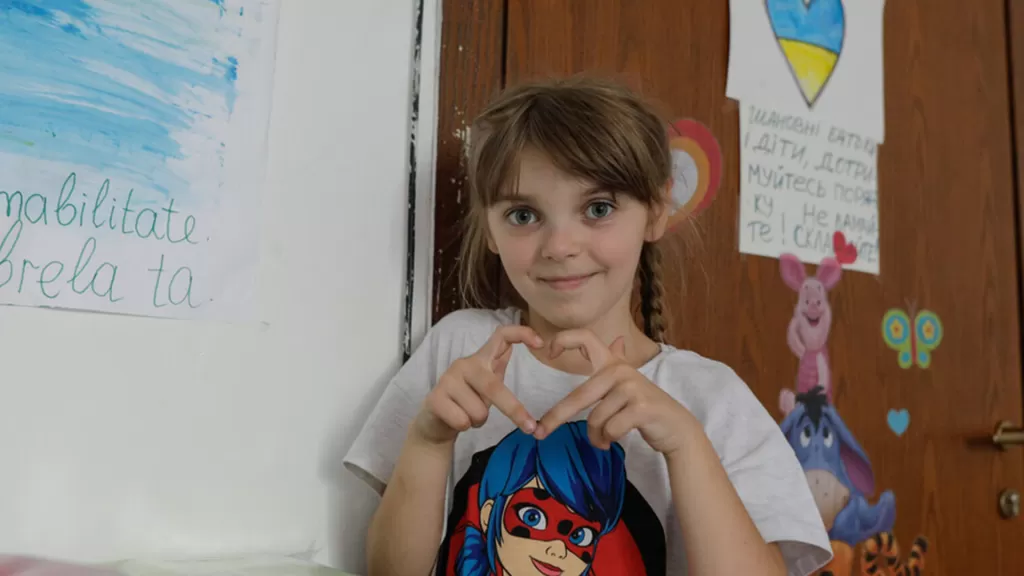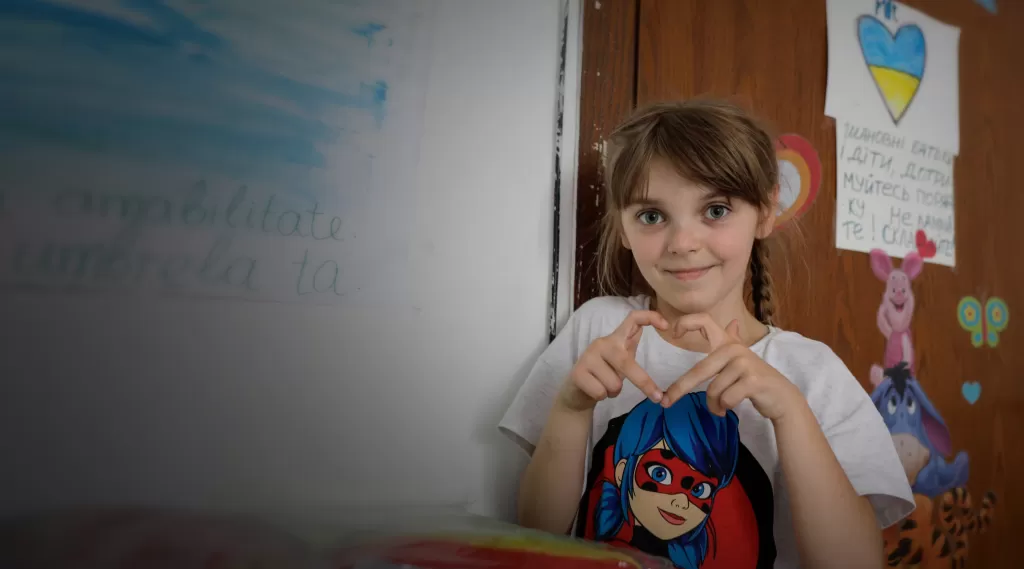 Ukraine
Humanitarian
Appeal
Ukraine
Humanitarian Appeal
Your donations are a lifeline for millions of people affected by the conflict in Ukraine, and refugees in neighbouring countries.

DEC charities are continuing to provide food, warmth, cash support, clean water, medical care and psychological support in Ukraine, Poland, Romania, Moldova and Hungary.
In the first six months of our response
1.9 million
people provided with access to clean water
392,000
people reached with food aid
71,000
people received primary healthcare services
338,900
people provided with cash support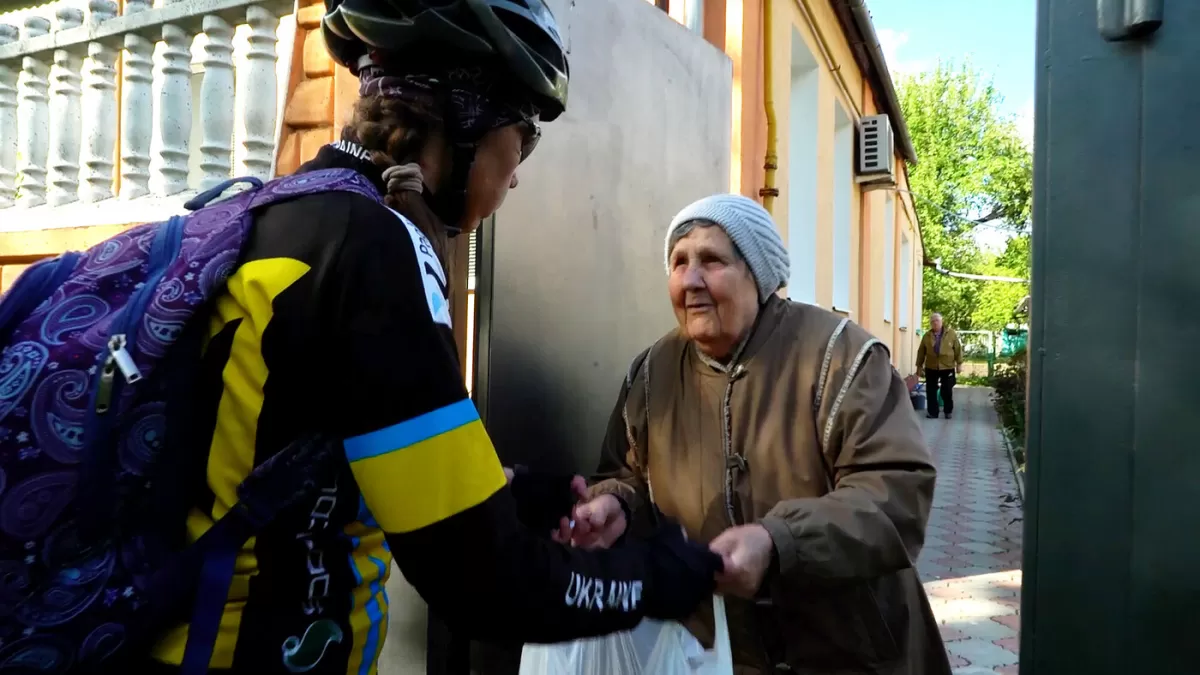 Viktoria, a cycle volunteer delivers food to Larysa, an older resident of Kharkiv. Image: Dmytro Minyailo/DEC
GETTING HELP TO VULNERABLE PEOPLE
DEC charities have prioritised helping the most vulnerable people, and empowered local people and organisations to reach them. They've also worked alongside international partners and the Ukrainian authorities to provide medical equipment and supplies for hospitals and restore water supplies.
Find out how DEC charities have been using your donations to help people affected by the conflict in Ukraine.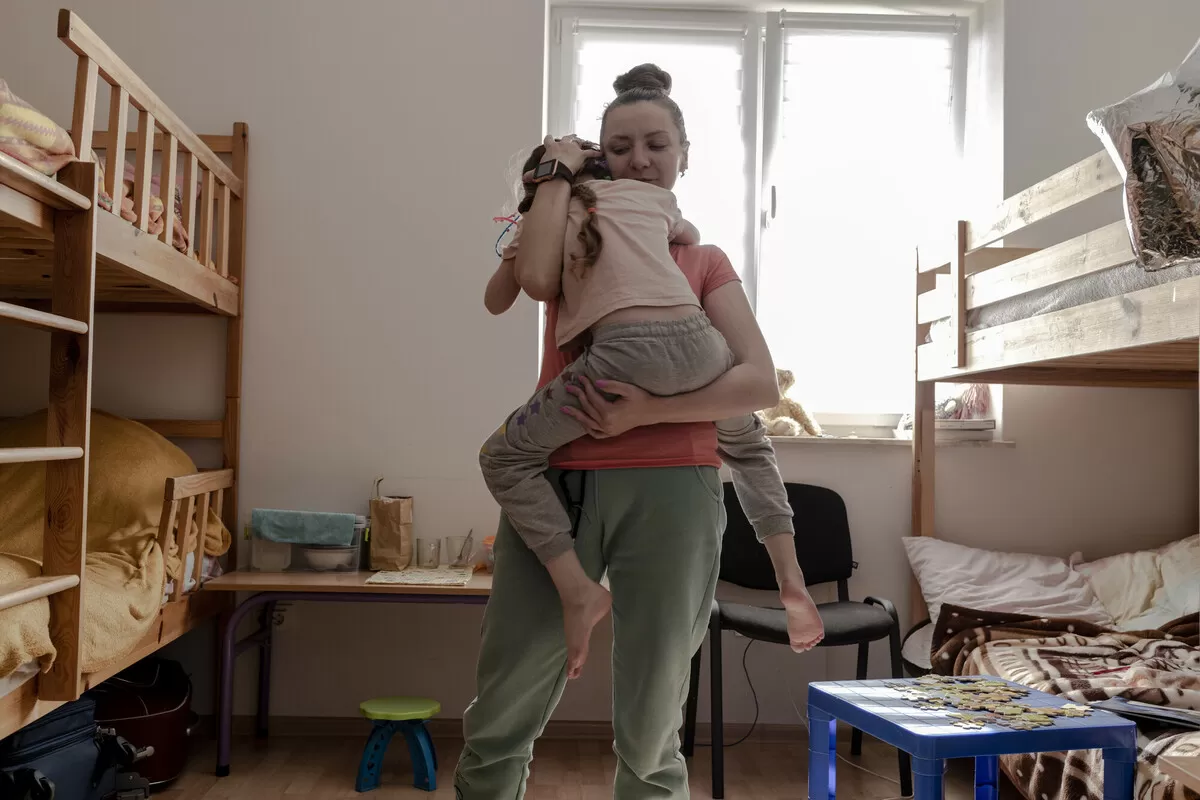 Oksana*, 28 years old, and her daughter Galyna* play in their room in a shelter at a church in the outskirts of Lviv, Ukraine in June 2022. Image: Kasia Strek/DEC
Supporting people fleeing the conflict
DEC charities have been supporting some of the 13 million people displaced by the conflict, both inside Ukraine and in neighbouring countries. They have been providing shelter, food, psychological support and cash to buy essentials such as food or medicines to people who have had to leave everything behind.
Meet some of the people who have been helped by DEC charities using donations to our appeal.
Latest updates
The latest on the appeal and the humanitarian situation in Ukraine.
Jump to
Moving film 'Never Alone' highlights UK public's contribution to Ukraine humanitarian response
24 February 2023
The DEC has released a powerful 60-second TV ad highlighting the UK public's hugely generous response to the Ukraine Humanitarian Appeal which has raised over £400 million one year since the conflict escalated.
The film was shot in Ukraine in February 2023 by a mostly Ukrainian crew and features the Ukrainian cast reciting lyrics from 'You'll Never Walk Alone'. Although the people in the film are actors, they represent real stories of people who have been helped by DEC charities using funds from the appeal, and have all themselves been affected by the conflict.
"The UK public have been incredibly generous in donating to this appeal," said Simon Beresford, Director of Fundraising and Marketing at the DEC. "We are committed to showing people how their donations are helping, and we wanted to make a film that had an emotional impact while inviting viewers to find out more.

"We're really proud of the fact that we could work with a Ukrainian cast and crew to make this film. Everyone who worked on the film in Ukraine has been affected in some way by the conflict and their creative input has been invaluable to the project."
Simon Pegg talks about visiting DEC-funded projects in Romania
21 February 2023
Actor and writer Simon Pegg appeared on the One Show last night to talk about his recent visit to Romania to see how UK donations are helping Ukrainian refugees there. Watch a clip below.
"These people are not only having to assimilate into Romanian society but also come to terms with what they've left behind"

A year on from the conflict in Ukraine, @SimonPegg tells us how the refugees are integrating into Romanian society.#TheOneShow 👉 https://t.co/W1kpjcYZDt pic.twitter.com/8BZWMAk8sC

— BBC The One Show (@BBCTheOneShow) February 20, 2023
DEC launches in-depth report on how Ukraine donations are helping
2 February 2023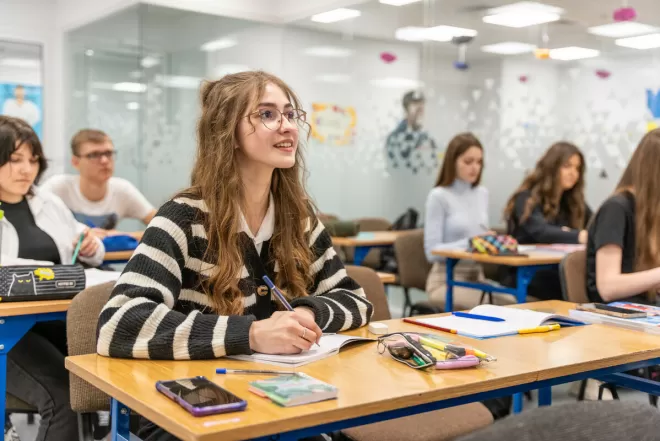 The DEC has launched a major report on its response to the ever-changing humanitarian crisis in Ukraine over the first year of the conflict.
Based on programmatic data, detailed interviews with aid workers and testimonies gathered from people affected, the report provides a powerful insight on how donations from the UK public have enabled DEC charities to provide vital aid to millions of people in need, both inside Ukraine and in neighbouring countries.
The incredibly generous response of donors in the UK means that the Ukraine Humanitarian Appeal has now raised over £400 million, making the DEC the biggest charity donor to the response inside Ukraine and for the regional refugee response, according to the UN Office for the Coordination of Humanitarian Affairs (OCHA) Financial Tracking Service.
DEC charities have used funds to work directly while also supporting a range of local organisations across five countries, reaching vulnerable and marginalised groups such as women and children, older people, those with disabilities, ethnic minorities and the LGBTQ+ community.
Examples of aid delivered by DEC charities and their local partners included in the report are:
Projects to provide food to people in war-torn areas, including a team of volunteer cycle couriers delivering food and medicines to vulnerable people in their homes.
Working with Ukraine's Ministry of Health to deliver 75,000 life-saving trauma kits for civilian use and 34 incubators for premature babies.
Providing generators for people in bomb shelters to keep them safe and warm over winter as the targeting of Ukraine's power grid leaves them without electricity and heating.
Programmes giving refugees and displaced people cash payments so that they can decide how best to meet their own needs.
Supporting special schools in Poland for refugee children with Ukrainian teachers, as well as 20 'digital learning centres' for children and parents.
Providing mental health support to people recover from their experiences of the conflict.
Jon Snow narrates documentary on DEC Ukraine appeal
2 February 2023
The journalist and broadcaster Jon Snow has narrated a 15-minute documentary on the DEC's Ukraine Humanitarian Appeal. The film shows how people across the UK came together to raise money for the appeal, and how those donations have gone on to help millions of people in Ukraine and neighbouring countries since the conflict began. Featuring interviews with aid workers and people who have benefitted from DEC funded projects, it tells the story of how the crisis has unfolded, and how DEC charities have responded.
If you can't spare 15 minutes, there is also a five-minute version available here.
Aid workers say 'Thank You' from Ukraine and neighbouring countries
21 December 2022
This year, thanks to your donations, DEC charities have been supporting people affected by conflict in Ukraine and neighbouring countries. 
Zelenskiy: Generators 'as important as armour' to protect civilians
14 December 2022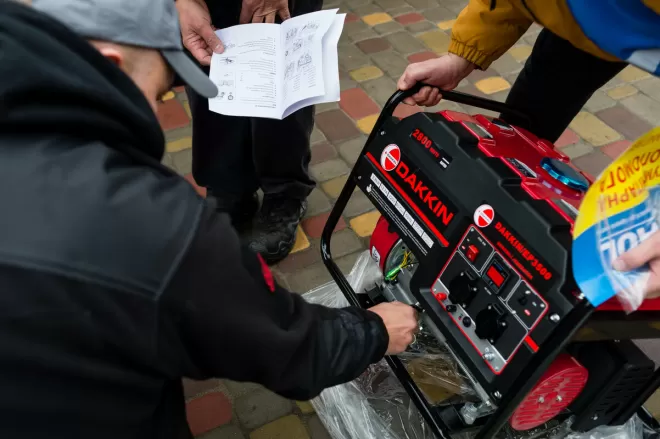 Generators are as important as armour in helping the civilian population survive this winter in Ukraine, President Volodymyr Zelenskiy has told an emergency conference in Paris convened to coordinate infrastructure and humanitarian aid to the country over the next four months, reports Patrick Wintour for The Guardian. 
"Most of our power plants are damaged or destroyed by the bombings," said Zelenskiy. "That's why the generators have become as important as armour to protect the population." Strikes to key infrastructure have caused power outages across the Ukraine as temperatures are falling in a country where it can reach -20C.
DEC charities are working with local partners to distribute and install generators, from small portable models to larger ones to power shelters, as well as other essential items like food, clean water and medical care to people across Ukraine this winter.
Father Vitaliy Novak appears on BBC's 'Ukrainecast'
9 December 2022
Father Vitaliy Novak, of DePaul Ukraine, was recently interviewed for @BBCNews's Ukrainecast. Listen to his interview at 23:10.

The DEC is proud to support the work of Father Vitaliy and many other aid workers like him in across Ukraine.#UkraineAppealhttps://t.co/wYQoSZIPCq

— DEC (@decappeal) December 9, 2022
An update from Ukraine as attacks on cities continue
14 October 2022
The DEC spoke to Father Vitaliy Novak of DePaul Ukraine, a local partner of CAFOD and Plan International, for an update us on what has been happening on the ground and how strikes on civillian areas have been affecting his work.
DEC charities are working directly and with local partners to help provide food and support for people affected by the conflict.
Father Vitaliy Novak from @Depaulintl Ukraine is working in partnership with DEC charity @CAFOD.

Yesterday we caught up with him to get an update on the situation in Ukraine where DEC charities and local partners are still delivering aid in challenging circumstances. pic.twitter.com/IVBGq7MvP8

— DEC (@decappeal) October 12, 2022
Thank you Ukraine fundraisers
25 August 2022
The response to our Ukraine appeal over the last six months has been incredible. From the millions who have donated to the myriad fundraising events that we've seen pop up, you have been truly amazing. Thank you so much to all the givers, singers, strivers, performers and sharers. Keep up the good work!
The Guardian: Women who fled Ukraine agonise over when to return
8 August 2022
A recent survey of Ukrainian refugees in seven countries by the United Nations high commissioner for refugees found that while most wanted to return to Ukraine eventually, only 16% planned to do so imminently.
Kompaniets and her family decided to leave Budapest and return home in June, but then a missile hit a nearby town and they put their plans on hold. 
"Every day my conscience is crying out that we are sitting here, I want to get back home and help out in any way I can," said Kompaniets. The family is staying in a safe house run by Hungarian Interchurch Aid (HIA). 
DEC funds are supporting HIA's work inside Ukraine, and will continue to support refugees and displaced people for months and years to come, whatever the future holds.
Reports
Find out more about how DEC charities are responding to the crisis.